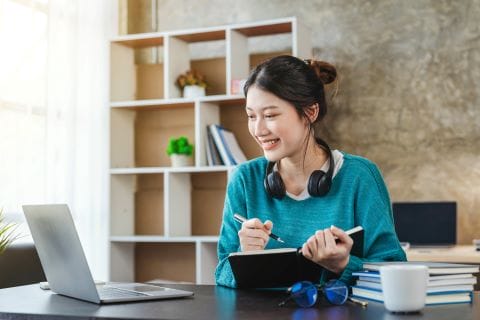 With the launch of The egLearning Library, I connected with Kerry Anderson, Vice President, Client Experience, who spearheaded its development to learn more about the digital courses and how they can support Emergenetics® Associates and clients.
Q: What inspired the Emergenetics team to build the newest product offerings?
A: The primary source of inspiration was our annual Associate Satisfaction Survey. Each year we reach out to our Associates around the world to solicit inputs on how Emergenetics can best meet their needs. We analyze their feedback and formulate action plans to direct focus to the opportunities that emerge. The creation of the curriculum was also a direct response to the shift to remote and hybrid work as well as the many indicators that employees want more growth opportunities, especially those that are self-directed.
Q: How did the Emergenetics Attributes come to life in the creation of The egLearning Library?
A: In nearly everything that we do at Emergenetics, we take a Whole Emergenetics (WE) Approach. Our first step was to create a cross-functional team that included individuals with diverse Thinking and Behavioral preferences. As we navigated the product development process, we used the Emergenetics template as a filter. Each course was created using the seven Attributes as a framework, to ensure the content was inclusive and would connect for all learners.
Q: There are so many ways that people can apply the Attributes. How did the team prioritize the first four topics included at launch?
A: We are extremely proud that an Emergenetics workshop experience is one that engages and delights its attendees. And we also recognize that there's a lot for participants to learn and digest, which means some of the concepts may be forgotten. Effective training programs support the development of new and positive habits, so we're always looking to empower learners to make meaningful connections to the content that allow them to overcome the extraordinary muscles of the status quo.
With The egLearning Library, our emphasis is on the day-to-day application of Emergenetics theory and what a person understands about the seven Attributes. Advanced self-awareness, the concept of flexing and the power of positive language are all foundational when using Emergenetics to advance workplace cultures. These core topics are natural building blocks to concepts we'll explore with future offerings.
Q: The initial four courses – Ignite Your Preferences, Learn to Flex: Behaving to Match Rapport, Learn to Flex: Thinking to Build Connection and Cultivating Culture Through the Language of Grace – all have such fun, engaging and different activities. What inspired the scenarios?
A: With consideration for Adult Learning Theory, we wanted to make connections to what happens in life and work with a balance of whimsical displays of the Attributes in action. Every course is designed to help learners identify opportunities to apply their knowledge in their day-to-day interactions as well as increase the likelihood of learning retention.
Q: If you had to pick, which of the four courses was the most fun or useful for you personally?
A:  Jenn, I believe that is like asking a parent to pick their favorite child! As immersed as I am in Emergenetics working here, I'm constantly learning. As a 1-1-2 Concrete thinker, mysteries abound as I seek to understand the Thinking Attributes that are not in preference and the spectrum of Behaviors. So I really liked the choose your own adventure style of Learn to Flex: Thinking to Build Connection. It allows you to move through the course from a perspective that isn't your natural go-to. It was fun to see the world through the lens of others that way!
Q: Yes, you live and breathe Emergenetics day in and day out and you were able to continue your own learning. Are there any a-has that stick out?
A: I like to think that during my tenure at Emergenetics I've become fluent in the Language of Grace. I practice positivity and encourage my team to do the same. And it was helpful to get some specific tips around reframing language. The course reinforced the mindfulness I need to continue to practice related to word choice.
Q: While I recognize that each company has its own journey with Emergenetics and likely different courses may suit them at different times, is there a recommended sequence for the programs?
A: I have to be second-third Flexible on this one and say, it truly depends. If a team or organization has only had one Emergenetics learning experience, I would recommend Ignite Your Preferences. This course gives the learner a chance to make more meaningful connections to their own Profile, which enhances their self-awareness, which is the first step to apply Emergenetics effectively.
If an organization is more immersed in our programming, any of the courses will add benefit. Ignite provides the refresher while the Learn to Flex courses get into the nuances of how to enact the Platinum Rule and treat others how they prefer to be treated. And I believe that every single organization should place significant emphasis on workplace culture, so you can't go wrong with using the Language of Grace to enhance your environment.
Q: What obstacles will the digital experiences help organizations solve?
A: In my experience nearly all organizations have challenges with time and budget. Add to these the new reality of dispersed workforces and putting together effective training programs is more challenging. I believe our digital learning experiences will lessen that burden.
With each course being self-directed and taking about 20 minutes to complete, the learner can manage their own development on a timeline that works best for them. I also think the price per license is economical, considering the learning builds on a financial investment that's already been made.
Q: How can The egLearning Library help our Associates in their work?
A: For our Associates who work in-house at an organization, I see it as an opportunity to extend the Emergenetics experience for their employees. With an enterprise license, the coursework can be offered broadly across a company's population.
For a more tailored approach, any course or collection of courses can complement a leadership development program or provide additional support to front line managers who need and are seeking resources to be increasingly effective in their role.
For our Associates who serve as coaches and consultants, I believe the curriculum enhances what they can offer to their customers and creates an opportunity to expand their business engagements.
All of our certified practitioners can take advantage of the course companion training guides that were developed to support facilitation opportunities that can enhance the post-learning experience. Each guide includes activities for in-person and remote discussions, so they can meet the need of every individual or group they are working with.
Q: What can learners expect to get from the digital courses?
A: A learning and development opportunity that builds on their foundational knowledge of Emergenetics. When a participant leaves a workshop experience, they are novices in the Attributes and the concepts that allow them to put their learnings into practice. The egLearning courses inspire people to approach work through their strengths, which can boost engagement. We know that highly engaged employees are 87% less likely to leave their company. So the investment in the day-to-day skill building in Emergenetics is really a win-win for all.
Q: What ideas does the Emergenetics team have to build on the suite?
A: We have an abundance of ideas! We know most situations you face in life can be navigated more smoothly if you apply Emergenetics. Our brainstorming has centered around the workplace and common employee experiences to identify topics that easily connect to using the Attributes to improve outcomes.
Can I take this opportunity to solicit ideas? If any of our blog readers have suggestions, I would love to hear them. Please get in touch with us at: learning@emergenetics.com.
Q: What is your favorite thing about The egLearning Library?
A: That it's now available for our Associates and customers! We invested a number of months to prepare quality development experiences that empower learners to build skills that are applicable and relevant in their daily lives. So the fact that the courses are live, and people are enjoying and benefitting from the curriculum thrills me!
Q: For anyone considering purchasing the courses, how would you recommend they get started?
A: There are several ways to introduce the courses. I would suggest to anyone that is interested to take the first step of assessing where the organization is on their Emergenetics journey and the topic or topics that would be most beneficial to the employees they are looking to support. Then an easy next step is to reach out to their Emergenetics representative who can consult on the best approach for their unique needs.
Whether it's a deep dive or a dipping-a-toe-in-the-water approach, the courses will add value to their development programs. From our perspective, equipping any individual to apply Emergenetics to improve their professional experience is what's most important.
Q: What haven't I asked that you want to share about The egLearning Library?
A: When we conducted our first Associate Satisfaction Survey in 2018, one of the common questions that emerged was 'What comes next after a Meeting of the Minds?' I think the digital courses are our best answer yet to this question, as they naturally build on any Emergenetics workshop experience. The egLearning Library is accessible, affordable and a great way to sustain any investment that's been made in Emergenetics!
 Learn more about The egLearning Library by watching our video to get a taste of the experience or fill out the form below to speak with one of our team members today!

Print This Post