Answering Our Most Common Questions
Learn more about Emergenetics.
About the Emergenetics Profile
If you have a control code to access the Emergenetics Profile questionnaire, you may click here to create your Emergenetics+ account and begin taking your Profile.
If you have not received a control code, please fill out the form to connect with one of our team members or contact your nearest regional office.
If you have previously taken the Emergenetics Profile and engaged in a personal debrief or team workshop, your results are accessible in the Emergenetics+ web portal and mobile app, available on the App Store or Google Play. You can log in using the same email address and password you used when filling out your questionnaire.
If you do not recall your password, you can reset it here. If your email address has changed, please reach out to support@emergenetics.com for further assistance.
If you have taken the Profile and did not receive a debrief of your results, please connect with the individual who provided you with your control code for next steps. If you have further questions, please reach out to support@emergenetics.com for assistance.
It is highly unlikely that your results will change. Our research has demonstrated that the Emergenetics Profile has high test-retest reliability, meaning that is very unlikely for your report to change in a significant way. However, there are three ways that Profile changes can occur:
With the significant use of drugs or alcohol
With a significant life event (e.g., birth of a child, death in the family, etc.)
With conscious behavioural change and practice
The Emergenetics Profile is not legally sound for hiring. Our Profile measures a person's preferences for specific Attributes, not their ability or skill. We have seen time and again if the individual is motivated, any Profile type can accomplish any job role.
No matter which personality instrument you employ, you will gain powerful insights that can support your personal and professional development.
Some of the many reasons why organisations, schools and consultants choose to use Emergenetics include:
Our assessment is scientifically valid and reliable.
Emergenetics measures more than just Thinking styles; it's really the behaviours that set us apart.
Our results are memorable, easy to compare and instantly applicable.
We use positive, strengths-based language – we believe you are perfect just as you are!
We recognise that everyone has each of our seven Attributes in varying degrees, so our results give you practical tips without boxing you in to just one type.
Our programmes support team development as well as individual professional and leadership development.
We promote cognitive diversity and inclusion.
Compared to other tools on the market, below is a summary of ways Emergenetics stands out.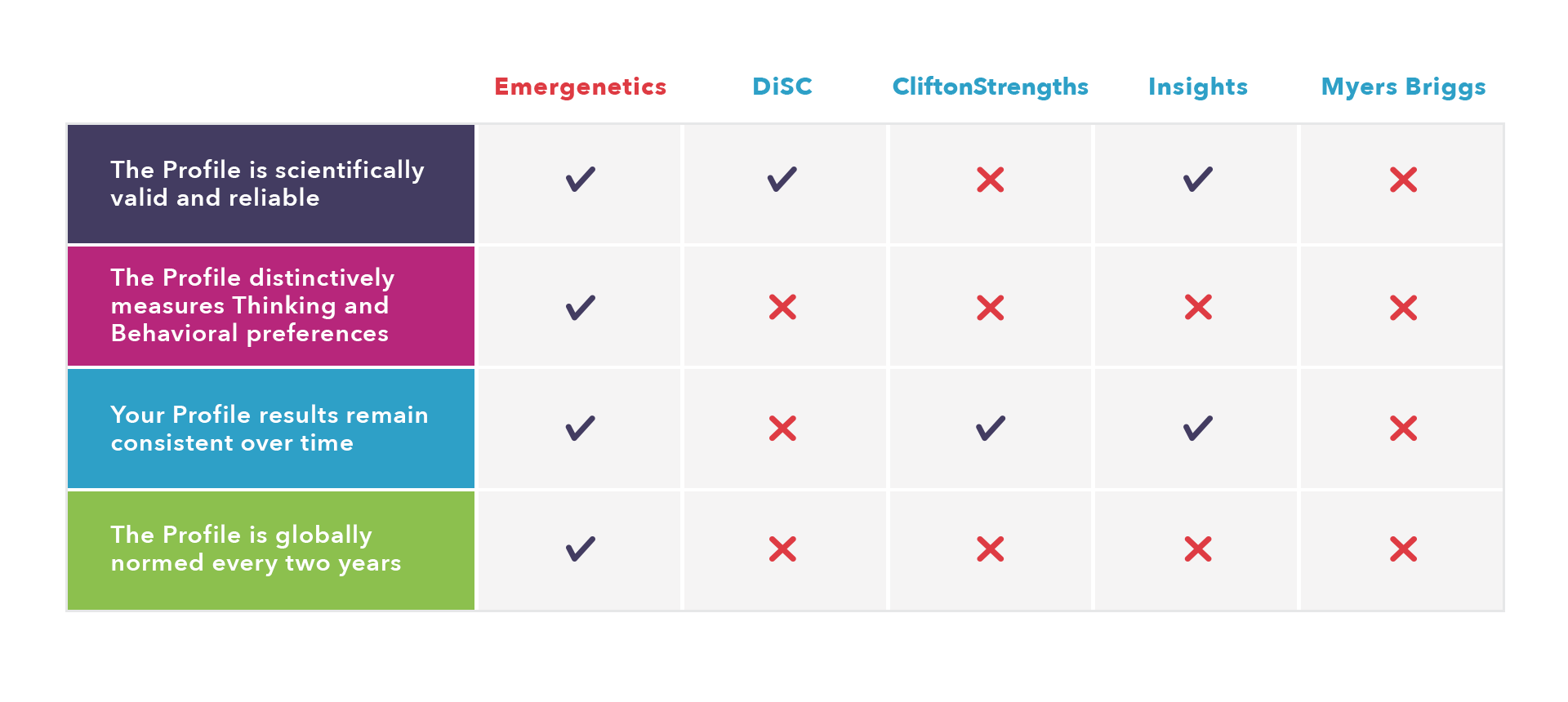 The Emergenetics Profile and Narrative Report have been translated into numerous languages including Spanish, German, French, Japanese as well as Traditional and Simplified Chinese, among others.
We also have Certified Associates in more than 45 countries, who can deliver Emergenetics workshops in a variety of languages. For specific information about your preferred language, please visit the Contact Us page to connect with your regional office for details.
To make sure that we have enough time for our participants to complete their questionnaires, prepare for your session, customize it to your specific needs and find the right facilitator, we typically ask for a minimum of four weeks' notice. We can conduct a program more quickly for a fee. Please connect with your regional office for more information.
Yes, all workshop participants must have an Emergenetics Profile to engage in our programs. Without their reports, they will not be able to participate in the interactive activities nor apply the learnings from the workshop.
You can reset your password here. If your email address has changed and you cannot access your old email account, please reach out to support@emergenetics.com for further assistance.
If you received an error while filling out the questionnaire, please contact support@emergenetics.com. We can work with you to confirm if your results were saved or if you will need to start the assessment over again.
If you received an error immediately upon logging into Emergenetics+, be sure that you have completed the Profile questionnaire on Emergenetics.com before attempting to log in again. You will not be able to log in until you have finished the 100-question assessment.
Please note: if you only completed the registration page and did not finish the questionnaire on Emergenetics.com, you will need return to the Take Your Profile page and complete the registration as well as the questionnaire in one sitting.
If you have completed the assessment on Emergenetics.com and continue to have issues logging into Emergenetics+, please contact us at support@emergenetics.com.
Our web application supports the most recent three versions of the following browsers:
Google Chrome
Mozilla Firefox
Microsoft Edge
Safari on MAC
Emergenetics+ is also available on the latest two versions of the following mobile browsers:
Native Chrome on Android
Safari on Apple iOS
As a first step, please make sure that you have downloaded the most recent version of the Emergenetics+ mobile app, available on the App Store or Google Play.
To log into the app, use the same username and password as you do in the Emergenetics+ web portal. If you still have challenges logging in, please email support@emergenetics.com.
Emergenetics+ is available on the latest two versions of:
Do you have another question that's not been answered by our FAQs?
Please fill out this form to connect with our team.
Emergenetics in Action
"As we settled on Emergenetics as the centerpiece to our Leadership Program, we hoped that the tool would provide a focal point for communication and a catalyst for a cultural shift. It has done that and more. After a recent seminar with our Directors, one of them sat by me in a meeting this week. His Emergenetics experience was truly eye-opening and profoundly impacted his outlook on those around him – including his peers and his staff."
Kerry Flowers | Vice President, Organizational Development, Infirmary Health System
We'd Like to Hear From You!
Our team is here to help you discover how you can strengthen human connection.