Embrace Different Work Styles
Use diversity of thought to improve results
Organizations that want to innovate, grow and create positive cultures should do their best to celebrate cognitive diversity. When staff welcome differing work styles and diversity of thought, they create a culture of psychological safety and inclusion, which leads to improved productivity.
We are thrilled that the concept of appreciation for cognitive diversity, defined as "differences in opinions, worldviews, beliefs and ways of thinking," is gaining ground in the workplace and schools.
Since our founding, our workshops and programs have celebrated differing perspectives as sources of strength. By using a Whole Emergenetics (WE) Approach, you can ensure that each of our seven Attributes has a seat at the table when tackling a project or initiative, which leads to faster problem solving, advanced innovation and better solutions.
Even if your team is not naturally cognitively diverse, we can help you find ways to consider all perspectives to achieve remarkable results.
Organizations that celebrate and utilize cognitive diversity are well positioned to effectively address opportunities and challenges, deliver better products and services as well as stay ahead of the competition.
Honoring diversity of thought empowers administrators, faculty and students to work together collaboratively, create inclusive school and classroom cultures and improve academic outcomes through personalized instruction.
Discover the Power of Cognitive Diversity
No matter the makeup of your team, we have a program designed for you! Our workshops deliver a foundational understanding of the Emergenetics Profile as well as provide practical applications and insights to enhance communication and collaboration. Attendees complete their personalized assessment and learn about the importance of cognitive diversity through actionable tips to honor and utilize diversity of thought. Delivered online or in person, our workshops meet the needs of remote teams.
Team Dynamics for Small Groups
Three to nine participants
Team Dynamics for Small Groups gives teams practical applications and insights to enhance communication and collaboration to achieve greater results.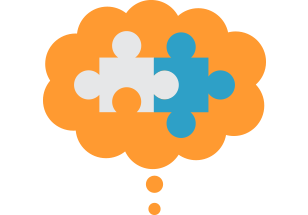 Meeting of the Minds
10 or more participants
Designed for adult learners, the program's content is simple to understand, immediately applicable and engaging to all!
Our exclusive, on demand eLearning curriculum is designed to meet the Emergenetics preferences of every learner. Any of the self-directed eLearning courses can be completed in less than 30 minutes and build upon the experiences of our Essential Workshops.
Empower your learners to accelerate the application of Emergenetics to create a workplace culture that embraces and celebrates all perspectives.
Emergenetics in Action
"Wishing that we had the benefit of this understanding of cognitive diversity ten years ago, but now that we do, it has the power to support positive team dynamics and improve all forms of communication and engagement. This innovative tool to aid professional development and organisational performance is invaluable for addressing the challenges for the future work environment."
Dr. Elaine O'Neill | Organisational Development & Learning Partner, Education Authority
Let's Put Our Heads Together!
We are here to help you realize the benefits of cognitive diversity.