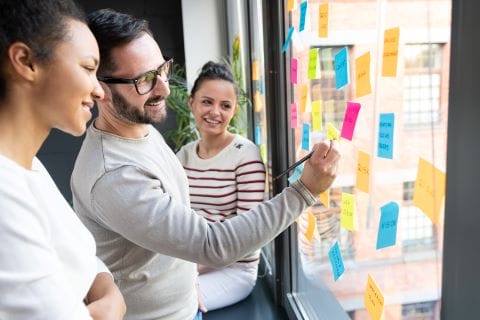 Workplace learning is constantly evolving. As organizations strive to innovate and stay ahead of their competitors, it is vital that leaders reinvest in their people to ensure they have the skillsets to flourish in the future of work. And those reinvestments cannot be a one-time experience.
A report from Gartner demonstrated that more than 30 percent of the capabilities companies required three years ago will soon be obsolete. The same study revealed that job posting trends show that employees are not only being asked to bring different capabilities than they did in prior years; they are also required to have a larger volume of talents.
To support the continuing demand for upskilling, I invite Talent Development (TD) and Organizational Development (OD) professionals to consider the following seven steps to identify and meet workforce training needs.
#1 – Reflect on the Vision of the Organization
Understanding where the corporation intends to go and how it will evolve is essential in effectively planning learning initiatives. Working in partnership with executives across the organization, consider the big picture. What does the company aim to accomplish? What is the growth strategy for the business? What new functions and activities will be brought in-house? With a clearer picture of the future, TD and OD professionals can identify vital capacities to drive long-term success.
#2 – Realign on Job Functions and Skillsets
It is also important to assess where the company is today. Review the job functions that the business is hiring for within the next year to determine the specific proficiencies that are in demand at present. Be sure to connect with leaders about existing functions as well to ensure that there is clarity on the proficiencies needed within their departments. As I noted above, capabilities can quickly become obsolete, so old job descriptions cannot be relied on to fully represent the talents required or represented within a team.
#3 – Remember the Human Element
While evaluating the priority capacities, consider both technical and soft skills. Be mindful to list out the people-related capabilities that will help make the business function effectively and productively. Abilities like communication, motivation, leadership and influence (and many more) can be just as relevant to the success of the business as technical knowledge and digital fluency.
#4 – Evaluate Existing Data
Take stock of the systems that are in place to collect information on skillsets. For example, companies may utilize performance management software, managerial feedback, employee surveys, stay interview inputs, assessments or other avenues. With this information, analyze existing talent needs and gaps as well as underutilized capacities compared with the priority capabilities identified in the first three steps. This is also a good time to identify what additional datapoints or systems may be useful to collect regular and real-time information moving forward.
#5 – Ask for Input
Understanding business demands is one part of the equation. The other part involves aligning with employee interests. According to a recent Qualtrics report, the ability to meet one's career goals was a top driver in influencing a person's intentions to stay at a company. By getting feedback and asking questions about what skills staff want to learn or build on, TD and OD teams can engage the workforce. Focus on the learning initiatives that best match employee interests and corporate needs.
#6 – Solidify Timelines While Embracing Choice
With insights into the types of skill-building opportunities that will best support the company and staff, TD and OD professionals can outline the rollout plan for upskilling and reskilling. Consider opportunities for short-term and long-term implementation, being realistic about how long certain proficiencies may take to develop. In addition to identifying larger scale initiatives, empower staff members to take a leading role in their ongoing growth through just-in-time resources as well as individualized learning paths.
#7 – Plan for Agility
If the past few years have taught us anything, it is that even the best-laid plans can be quickly undone by unexpected circumstances. Determine how often the TD or OD team will re-evaluate talent gaps as well as how data will be used to inform adjustments. While it is not possible to anticipate every potential shift, being thoughtful about when and how changes will be made can help the firm stay ahead of the curve.
When organizations help their people build skills, they are creating a win-win strategy for both the business and their employees. These investments will pay dividends by amplifying the loyalty of the workforce while simultaneously stimulating productivity.
If you would like more support in identifying employee development solutions for your company, Emergenetics can help! I invite you to download our Buyer's Guide to get started.

Maximize your professional growth initiatives. Fill out the form below to get in touch with our team today!

Print This Post