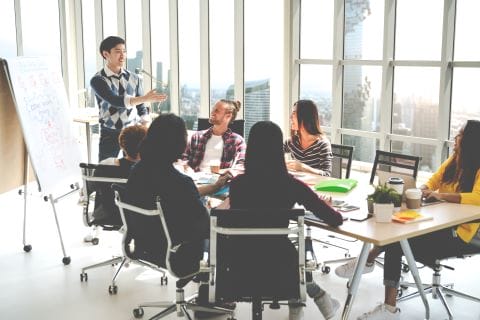 Team building is one of the core components of high performance. When employees invest time in getting to know each other and improving how they communicate and collaborate, they can see impressive results like a 10X increase in work ethic as well as a 20% – 25% increase in productivity.
While the value of developing strong connections is clear, it can be challenging to find meaningful activities to inspire cooperation and cohesion. If you are an Emergenetics® Associate, however, you're in luck! Through the Emergenetics+ portal, you have access to many activities that can be used to improve group dynamics.
Quick Hits to Solidify Cohesion
By including micro experiences as part an employee's day-to-day work or meetings, you can support better collaboration. To get started, use the following resources, which can be found in the My Library section of Emergenetics+.
#1 – Emergenetics Warmups
These seven activities vary in length and can be integrated into virtual or in-person get-togethers. The exercises allow employees to learn more about one another and discover how their colleagues' Emergenetics preferences come to life in the workplace, leading to a-ha moments that can amplify teamwork.
#2 – Post-Meeting of the Minds Activities
Use these three activities to improve interconnection in the workplace. All three can be conducted online or in person, and help participants uncover one another's strengths, apply the Platinum Rule (to do unto others as they would have done unto themselves) and use the Emergenetics+ app to flex into their colleagues' preferred work styles.
#3 – Brainwork Made Easy
Brainwork Made Easy is one of my favorite resources! Share the worksheet with teams in advance of an upcoming meeting and facilitate a conversation around one or two of the check-in questions below to encourage staff to observe and honor their own brilliances as well as those of their coworkers:
Considering your preferences:
Reference the first column, which descriptors align with how you view yourself?
Reference the fourth column, describe a time when you may have appeared to others as one of the bias descriptors.
Reference the second column, which one of these tactics could you practice?
Considering your non-preferences:
Can you see the value that comes from the descriptors in the first column? Which of your colleagues has those gifts?
Exploring the second column, which one of these tactics could you practice?
With these thought starters, you can have several weeks' worth of check-ins!
Immersive Activities
In some instances, Associates will have an opportunity to join a group for a more structured activity to promote healthy dynamics. When you have 30–45 minutes (or longer) with a team, try using one of the following exercises.
#4 – Behavioral Lineups and Thinking Walkabouts
Revisit these Meeting of the Minds activities to reinforce the value of different work styles. To explore the Behaviors, consider one Attribute at a time. Line the participants up by their percentiles and designate where each third begins and ends.
To discuss Thinking preferences, create four separate spaces around the room for each of the four Attributes and ask the group to stand in their most preferred Attribute.
Then, use these prompts to facilitate dialog and identify opportunities to optimize performance:
How is our group distributed? Are we missing representation from any of the Attributes?
How does this distribution show up in our work together?
What are the strengths of having each Attribute in preference?
What are the vulnerabilities of having each Attribute in preference?
What assumptions do others make about each Attribute?
What do you want others to know about your preferred Attributes?
What is one thing that you will do differently in your interactions with your teammates to better honor their preferences?
Remember: You do not need to discuss every Attribute and question at once. Pick a few thought starters using the lens of the Behavioral or Thinking Attributes and revisit the others in a future conversation.
#5 – WEboarding
WEboarding is another great way to gain appreciation for colleagues' varying points of view. Using WEboarding, employees build skills in working with cognitive diversity and adopting a holistic approach to optimize innovation and outcomes.
To get started:
Tape seven pieces of flipchart paper on the wall around a room with one Attribute written on the top of each. In a virtual setting, create seven virtual whiteboards.
Split the papers or virtual whiteboards with the Behavioral Attributes in half to consider both first-third and third-third preferences.
Identify a project, task, communication, presentation, etc. the group is working on.
Invite everyone to write at least one consideration or idea related to the topic on each piece of paper or whiteboard.
Identify themes and collate the content for future use once the group is done.
This activity can be used and reused by employees for just about any initiative!
Programs for Focused Development
When teams want to dedicate a few hours to build community and enhance collaboration, Associates can lean into Emergenetics workshops and eLearning courses.
#6 – Meeting of the Minds or Team Dynamics for Small Groups
If personnel have not already participated in an introductory workshop, these programs are excellent ways to help staff improve understanding, refine communication and learn to cooperate effectively. Also, the programs happen to be a lot of fun! Employees typically rave about these team building experiences.
#7 – Power of WE
The Power of WE workshops inspire intact teams to advance group dynamics while building relevant skills in areas like performance, change management, innovation and more. The programs can be purchased and led by Emergenetics Associates and typically take two to four hours to complete.
#8 – The egLearning Library
These digital courses engage staff in a blended learning experience, where they will investigate the nuances of the seven Attributes so they can better collaborate with teammates. Ask employees to complete their 20-minute self-directed digital course before joining a live learning session to reinforce their new knowledge. Associates can use the activities in the Course Companions in the My Library section to support the discussions. I recommend the following four courses to strengthen collaboration:
Ignite Your Preferences
Learn to Flex: Behaving to Improve Rapport
Learn to Flex: Thinking to Build Connection
Cultivating Culture Through the Language of Grace
Emergenetics Associates have access to so many team building tools through the Emergenetics+ portal and mobile app. Using the applications, activities and add-on coursework, you can empower groups in any organization to magnify collaboration, optimize performance and have fun in the process!
Want more team building ideas? Explore Build Exceptional Teams: An Emergenetics® eBook!

Or, fill out the form below to speak with one of our staff members today!

Print This Post