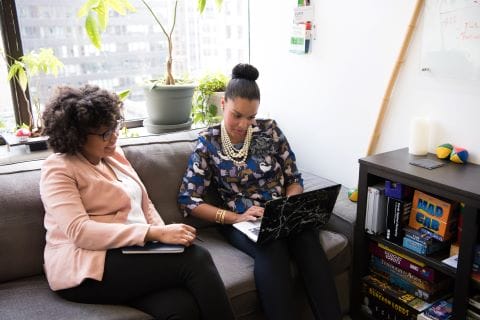 There's a lot of pressure on Learning & Development (L&D) teams today. While executive support for our programs is growing and fewer professionals see budget as their top challenge, there are many opportunities to tackle as new generations of employees enter the workforce and expectations for development grow.
How many of these statements resonate with you?
I feel pulled in 100 different directions, trying to build learning experiences for all levels of our company.
I need to create 24/7, on-demand learning opportunities.
I've got to find a way to include more virtual trainings to balance out my in-person programming.
There's not enough time in the day to build personalized learning experiences.
My employees are not engaged enough in our training programs.
I need to change our culture to value a growth mindset.
I want to re-evaluate my measurements and better track program impact.
While this list hardly covers all of the areas of focus for Learning & Development teams, it does reveal where we could focus our attention to make improvements.
The good news is that all L&D responsibilities don't have to fall solely on your shoulders. Likely, you have a group of people who you work with who may already be creating content or be willing to help: your employees.
According to a study by Crowdtap, 50 percent of people say they create content at least once daily, with 23 percent saying that they create it even more frequently.
Are you tapping into these resources to support your initiatives?
Why User-Generated Content Works in Learning & Development
User-generated content (UGC) is any form of content (e.g. presentations, videos, blogs, images, podcasts) that can be posted by users of a platform or community. In the context of L&D, that means your employees.
As an example, you might have a salesperson who would be happy to create periodic videos that build on your sales trainings by sharing tips on their negotiation strategies or explaining how they respond to obstacles during the sales process.
UGC can help address a number of those challenges we listed above, including one of the biggest challenges: driving employee engagement.
One report from Salesforce shared that UGC drove a 73 percent increase in email click-through-rates. Imagine that sort of conversion on your next email promoting your training offerings!
Some of your staff members will be more engaged by content that features a colleague they know, while others will be energized and motivated by sharing their knowledge with others.
UGC can also scale training content and expand delivery options by helping you build a library of relevant topics and information in a multitude of media formats.
With a larger library of resources, you can offer on-demand learning to your employees and give them greater choice over their learning journeys.
Considerations Before Diving into User-Generated Content
While UGC can augment the work of your L&D team, I recommend building a plan before you dive in.
Your user base will not be able to (nor should they) address every topic that you need to train employees on, and it's likely that you'll receive some content that misses the mark.
If you're interested in driving employee engagement in your Learning & Development programs by harnessing UGC, start by crafting a strategy so you can grow your learning library effectively.
A WEApproach to Incorporating User-Generated Content into Your Learning & Development Programs
Define your objectives & success metrics
Identify your short- and long-term objectives for UGC, such as building a library of on-demand materials for a particular topic to ultimately increase engagement in your Learning Engagement Platform.
Then, establish success metrics. You may want to start with goals that align more towards completion (e.g. three employees have created content on conflict management in a quarter) and over time grow into broader metrics such as increased participation in L&D programs or skills mastery.
Determine your end users
As you get started, it can be especially important to define a clear audience and end user for UGC, as you likely won't have the time or resources to build out a library for every single employee, experience level or field all at once. Prioritize your primary audience for your initial UGC endeavors and consider future audiences that you can grow into.
Establish guidelines
To support the development of quality content, create guidelines for your users with best practices, templates, branding or graphics recommendations. Explain how the vetting process works so that your employees have an idea of what to expect when submitting content and build a system to provide feedback.
Identify areas for experimentation
Guidelines are helpful, and many of your users will be energized by the opportunity to experiment as they share their knowledge. Identify areas where you feel comfortable letting your employees try out new ideas – whether that's using a different media type or speaking to a topic that your L&D program hasn't touched on yet.
Build your promotion plan
You're unlikely to get content if you don't tell people you're accepting UGC. Broadcast the fact that you want user-generated content through email, company meetings, notices on your intranet, Learning Management System and by seeking out individuals you feel would be authorities on relevant topics.
Consider scale
Map out a timeline to scale UGC for your organization. As previously advised, you may want to prioritize audiences or specific content areas before expanding more broadly across the organization. While you certainly want to be realistic with your timeline, it can be motivating to include stretch goals to help accelerate content development.
Set clear boundaries
User-generated content is a great way for individuals to share their expertise, and it won't be the right fit for all trainings such as some compliance or HR policies. To set the right expectations, be up front about any non-negotiables you have so employees are clear on where they can help and where there are restrictions.
User-generated content can be a powerful medium address some of the pressures that Learning & Development teams are facing while simultaneously engaging your employees in their own growth. Develop your plan today!
Interested in discovering more applications of Emergenetics and using a WEapproach in your work? Fill out the form below to learn more about our Meeting of the Minds workshop.

Print This Post