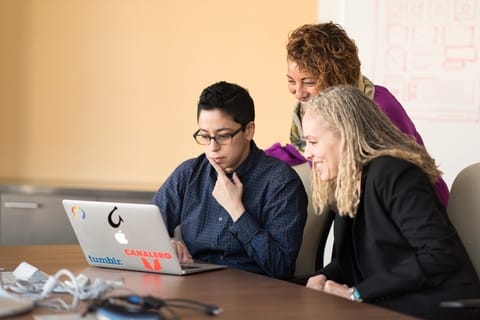 After a few Meeting of the Minds workshops, many Emergenetics® Associates begin to wonder: What's next? How can I expand on this program and tap into the enthusiasm of my workshop attendees? How can I integrate Emergenetics so it becomes part of everyday work? What are ways to sustain the financial and time investments made?
To support your participants, here are seven easy ways to build on the positive impact of their workshop experience.
1. Encourage Meeting of the Minds attendees to make their Profiles visible.
When individuals have a visual reminder of the Emergenetics Profile, it keeps the lessons from the Meeting of the Minds top of mind. Encourage staff to post their Profiles by their desks or on their desktops. For in-office staff, the displayed Profile can serve as a reference point when colleagues stop by each other's desks and can encourage them to consider one another's preferences when communicating and collaborating. For teams that are working remotely, invite individuals to include their preferences in their email signatures to support virtual connection.
2. Use the Most Preferred Attribute (MPA), Least Preferred Attribute (LPA) and Behavioral Line-Up activities in meetings.
We use these three activities frequently at our own staff meetings at Emergenetics. As new faces join the organization, it's beneficial to circle back to the line-ups to uncover the most and least preferred thinking Attributes represented within the group. It's also valuable to regularly remind colleagues about the spectrum of behaviors present in the team.
Use these activities to reflect on what Attributes are represented and what strengths you can utilize from these preferences. You can also identify any Thinking and Behavioral tendencies that may be under-represented and discuss tactics to consider the perspective of every preference.
3. Invite participants to connect with colleagues on the Emergenetics+ app.
By downloading and using the Emergenetics+ app, Meeting of the Minds attendees have a tangible, practical way to implement Emergenetics. Connecting with colleagues allows individuals to find customized tips to improve communication and interactions based on their coworkers' preferences. Encourage participants to use the app before going into one-on-one meetings so that the conversation can flow more easily and effectively.
Associates can also create and circulate Saved Groups or Group Profiles to help staff understand the preferences of the teammates they are working with.
4. Enroll attendees in an egLearning course.
The egLearning Library empowers individuals to apply the nuances of the seven Attributes in the workplace, so they can better understand themselves, value the viewpoints of others as well as boost collaboration and productivity. The digital, self-directed learnings are accompanied by Course Companions, so Associates can build on the learning through ongoing activities to reinforce retention.
Based on the needs of each team, different courses may be better fits for certain groups, and I often recommend starting with Ignite Your Preferences, which explores the brilliances and common misconceptions of each Attribute. Learn more about the offerings here.
5. Lead Emergenetics activities in meetings.
Work with managers to identify opportunities for an Associate to join department meetings and take 15 to 20 minutes to lead an Emergenetics-related activity. Your Emergenetics+ Associate account contains several engaging options that you can use to encourage participants to lean into different Emergenetics Attributes, appreciate the gifts of each preference as well as improve communication and teamwork.
6. Share Attributes in Action Guides with employees.
To promote collaboration and increase effectiveness, review the Attributes in Action Guides . You can download the Attributes in Action Guides from Emergenetics+ and post them to a department or organization's Intranet site as well as send them via email to staff. The resources offer tangible tips to use the Emergenetics Attributes to more effectively give feedback, run a successful meeting, set goals, resolve conflict and more.
7. Host a Power of WE workshop.
Our two-hour Power of WE workshops empower individuals to apply Emergenetics to navigate common workplace challenges. The most natural next step following a Meeting of the Minds is Power of WE: Accelerating Team Performance, which encourages departments and groups of employee to utilize each other's strengths to increase their productivity.
We also deliver workshops that use Emergenetics to:
Foster Innovation to support leaders and employees who are developing new business strategies, creating products and problem solving.
Manage Change to help individuals and teams tasked with implementing new ways of doing business, handling mergers and acquisitions, addressing changes in leadership and more.
Build Trust to provide strategies to create a supportive and collaborative environment.
Respect Differences to encourage employees to recognize the importance of cognitive diversity and utilize each other's strengths.
Craft Team Norms to support intact, cross-functional or project teams in defining their rules of engagement and ultimately improving performance.
As you look for ways to expand on the Meeting of the Minds, try using a number of these recommendations to ensure that the learning from your workshops extend well beyond your time in the training room.
For more ideas on how you can expand on Meeting of the Minds, fill out the form below. Our team would be happy to connect!

Print This Post