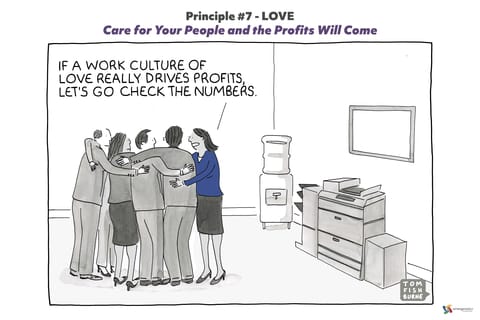 I recently had the opportunity to speak to a bright group of employees during their organization's professional development series. After initial discussions about what leadership topics I should cover, we committed to a few priority topics, and then I suggested that I talk about love.
I think I gave the event coordinators a bit of a fright! I didn't mean that I wanted to talk about romance; I meant love as a leader.
What love in leadership means is caring about your people – and showing them you care.
This topic is the seventh and final principle of my book Work That Works. In Principle #7, Love: Care for Your People and the Profits Will Come, I share how leaders can show their appreciation for employees, providing actionable ways to incorporate love into your management style.
What I would like to focus on is why love is so important in leadership today.
Most businesses still feel a bit scratchy when they hear love related to leadership, and that is understandable. Historically, businesses have focused on profit and delivering a return to shareholders. Only recently have organizations turned their attention to engaging and supporting their staff.
Part of this comes from a new generation of employee. According to a Pearl Meyer survey reported by SHRM, millennials expect constant feedback, training and development opportunities and a manager who is interested in their career growth.
If you do not have genuine care for the people you lead, it may prove difficult to provide regular feedback, be attentive to your staff's professional development and generally meet the needs of employees today.
There is also a selfish reason to focus on employee job satisfaction. Gallup research indicates that lack of engagement costs businesses between $450 billion and $550 billion each year in the United States. Moreover, companies with engaged employees perform 200 percent better than those without.
Beyond simply wanting to support your staff, businesses actually do better when employees are engaged, so that begs the question: what are the keys to job satisfaction?
In SHRM's 2017 Employee Job Satisfaction and Engagement report, three factors rise to the top as very important to engagement:
Respectful treatment of all employees at all levels.
Overall compensation and pay.
Trust between employees and senior management.
When we look at these top three contributors, it is clear that addressing these with love may support the development of a more engaging culture that supports successful businesses in the 21st century.
Caring for your employees means showing them respect. Caring for employees means providing them with fair compensation and benefits. Caring for employees means building trusting relationships with one another.
All of these elements come down to love and demonstrating that you appreciate your staff, and when you do that, you can start to see the positive outcomes that arise from having engaged employees in your organization.
One way to start showing your appreciation is to use the Platinum Rule, which means to treat others the way they want to be treated. This rule goes a step above the Golden Rule because, by focusing on how your employees want to be treated (rather than using yourself as a measure), you show your respect and appreciation for their feelings and perspectives.
The Emergenetics Profile is an excellent tool to support the Platinum Rule. When you understand your staff's Profiles, you discover the ways they prefer to think and behave, which allows you to tailor your communication and approach to connect to the ways they want to be treated. This is a great first step in showing love as a leader.
Love in leadership is certainly a bold concept, and one that I expect to see become more and more prevalent in leadership books and practices as time goes on.
To get ahead of the curve, I encourage you to read Work That Works for actionable tips on how to bring love into your management style as well as how to apply each of the other seven principles of the book to your work.
If you missed any of my blog posts – or would like a refresher – on the principles of Work That Works, I encourage you to read them here:
Principle #1 – Leadership Is an Inside Job: Know Yourself
Principle #2 – Embrace the Scratchy: Uncomfortable Is the New Norm
Principle #3 – Using the Language of Grace: Words Are Powerful
Principle #4 – Creating a Meeting of the Minds: Cognitive Collaboration
Principle #5 – Using the Power of WE: Techniques to Unleash Your Team's Potential
Principle #6 – Let Your People Live to Work, Not Work to Live: A Job Is More than the Time Between Vacations
And, of course, the blog you are currently reading on Principle #7 – Love: Care for Your People and the Profits Will Come.
When you put each of these principles into action, you will not only see a powerful difference in the way your team or company operates. You will also see a positive impact on yourself, your leadership and your work with others.
To learn more about applying love in leadership – or any of the principles – purchase your copy of Work That Works today.
Do you have questions about applying this leadership lesson in your organization? Fill out the form below to speak with our team.

Print This Post