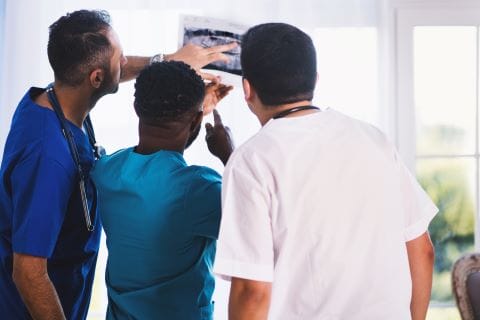 A conversation with David Hunt, Emergenetics Certified Associate, Vice President, Patient Access, and Emergency Services at the University of Maryland Medical Center (UMMC)
Q: What inspired the University of Maryland Medical Center to start using Emergenetics?
A: Initially, Lisa Rowen, our Chief Nursing Officer, wanted to find something new and different to create energy and optimize who we are and what we were doing as a nursing team. So about three years ago, in our annual Strategic Retreat, we hosted a Meeting of the Minds (MOTM) with 200 of the most senior nursing leaders in attendance.
We began our journey at the Medical Center with the nursing services teams and have branched out to include leadership individuals across many disciplines who help us run the organization.
Q: Can you describe how you are expanding Emergenetics at UMMC?
A: We started Emergenetics in our system-wide retreats for the 13 hospitals that comprise the University of Maryland Medical System.
We then capitalized on that experience in the flagship downtown campus: UMMC
About 18 months ago, we made a decision to train a core group of our own staff to roll Emergenetics out in a thoughtful way, on a large scale with front-line leaders. Now, we're using Emergenetics concepts with those who are doing the clinical work of caring for our patients, specifically Senior Clinical Nurses, Supervisors and Managers.
We recently sent seven leadership team members to Advanced Associate Certification. We brought these concepts back to our system-wide retreat in November, and simulated several of the activities that were shared in the training with a focus on teamwork and communication. We want to optimize what we're doing here at the Medical Center and further expand those concepts throughout the system.
Q: Where do you see opportunities for continued growth?
A: Healthcare in 2020 is complex work. The Medical Center is a regional referral center and our clinical acuity and complexity is one of the highest in the country. We want to prioritize expanding Emergenetics to focus on teamwork and communication.
In the last eighteen months we've rolled Emergenetics and the MOTM workshop throughout the organization to more than 2,500 people. That said, there are still some key groups that we are working to include in our deployment of the Emergenetics concepts, this includes physician and executive leaders.
We've seen lots of energy and excitement around what we're doing. There's more and more interest in learning Emergenetics tools and concepts, especially from the physician side.
Q: Why did you decide to become an Emergenetics Associate?
A: I thought Emergenetics was really cool and quite thought provoking. I like both its complexity and simplicity.
I like that it's scientifically formulated and statistically validated. I'm one of those people who actually read the technical report. I love to see the faces of my audience when they suddenly start to understand their Profile and what it really means – it's genuinely cool and fun!
Q: What's been your process for selecting other team members to become Associates?
A: A lot of it is based on interest. Associates were initially chosen by our CNO Lisa Rowen. She was looking for a diverse group with different background and roles but who all have some leadership leverage. She prioritized people who are organized and articulate. In our efforts as Emergenetics facilitators we have purposefully balanced our approach based on preferences and Attributes.
Q: In a healthcare system there are a lot of trainings. Why did you feel Emergenetics was important to include in your programs?
A: In healthcare a lot of the competency and training we do is technical in nature. That's always operationally and scientifically evolving. I would describe our approach to Emergenetics as more foundational to who we are and what we do. The concepts of Emergenetics are simplistic in nature but complex in the way they can be applied, which is useful and insightful.
Emergenetics enhances self-awareness, self-understanding and teamwork. We use Emergenetics as a common thread in delivering the care we provide and how we support each other in doing it.
It works foundationally for us by creating a new lens to see ourselves and the world around us, to add value and to sustain change in a way that positively impacts our teams and the people we serve.
Q: When you're delivering a training, how do you choose which Associates lead the sessions?
A: We have very purposefully used two trainers for each of our Meeting of the Minds seminars. Partnerships are chosen very carefully so that we align facilitators based on a thoughtful & balanced approach to thinking and behavioral preferences.
We look to blend styles that complement the preparation and the execution of the session, and we focus on the thinking styles and behavioral preferences of the groups we're instructing to better support their learning.
Q: What are some of the workplace challenges you're seeking to improve using Emergenetics?
A: UMMC is an 800-bed Academic Medical Center where we are taking care of some of the sickest patients in the region. One third of all patients come to us from other hospitals where they don't have the specialty services or technical capabilities to adequately support care. We have a complexity index that is incredibly high. It makes the environment that we work in exciting, but very challenging.
We're purposefully looking for ways to help our teams work together more effectively. Emergenetics has been a foundational tool to help us see through a different lens, whether it's an individual in their approach to care provision, or through better teamwork and communication. It has helped us in how we optimize teams, how we balance teams, how we drive outcomes and achieve sustainable success.
Q: How has Emergenetics supported your work across the hospitals in the UMMS system?
A: As we embed the concepts of Emergenetics in our interdisciplinary work, we're asking how we ensure all teams are using this tool.
We're progressively using Emergenetics with a focus on performance appraisals, the way we run meetings, leadership self-evaluations, teamwork and tackling poor communication pathways. Those are things we like to think through and talk through differently using the language that's embedded in Emergenetics.
Q: How has Emergenetics helped you in your own work?
A: As an Abstract, Convergent Thinker, I've had a lot of self-reflection on my leadership style and communication. One example comes from performance appraisals.
Typically, when we evaluate other people, we often do so based on our own judgements and the world as we see it. Emergenetics has showed me that I have a particular way of doing things and challenging those approaches with an Emergenetics lens has been very healthy.
I've had the opportunity to sit down with my leadership team and talk through many different challenges and scenarios. In some, leaders may think one way and in other cases, leaders may have a very different approach. Given the circumstance, both approaches may be helpful and get us to the right place. But in some cases, one may be more successful, so I use Emergenetics to help my team critically think how we can better compliment and 'lean' on each other.
I also use it regularly in my routine work with senior leaders. I love data and thinking out of the box. When I bring them an idea, I ask them to remember who I am and how I think. I share that I'm interested in their thoughts and different perspectives. Emergenetics has helped me be more open in respecting what everyone brings to the table.
Q: What impact have you seen from using Emergenetics?
A: When we first started this journey, we purposefully focused on teams that I would suggest were a little jaded, dissatisfied, not particularly comfortable working together and who struggled creating sustainable change. Emergenetics quickly became a 'really cool' toolset that they benefitted from, and we realized there's an opportunity for everyone to advance using these concepts.
I love when that lightbulb goes off and someone really starts to "get it."
We've had a number of leaders target challenges that they've struggled with over time by using WEteams, and they have seen more productive outcomes.
Focusing on the Least Preferred Attributes (LPA) has also been a really insightful approach. We don't always notice how we are giving or taking away energy from people. With an Emergenetics approach, and a better understanding of my audience, I'm able to engage front-line staff in ways that may give them energy rather than dramatically take it away.
Emergenetics offers a whole different lens and perspective. Managers in particular have a much better ability to connect with front-line leaders who are doing the work. We're all sharing our Profiles and figuring out how we can partner together more effectively.
Q: In working with Emergenetics and implementing your programs, what are some of the outcomes that you're most proud of?
A: For me, it's been seeing a change in the way leaders lead, in the way they self-reflect and communicate.
I love when I see a wry smile on people's faces and for example they say, "Here's the Yellow coming out." Emergenetics has given us a new language.
There is something different about this program that is more powerful than tools that we've employed in the past. A lot the new things we have to push, we do so with mandates around them, due dates around them. Emergenetics certainly isn't one of them. This has caught on like wildfire. The energy around it is engaging & infectious.
Q: What are some best practices you would share from your experience?
A: One comes from our focus by senior level leadership. We have leaders who post their Profiles in their office or display their Profiles in large group presentations.
Recently, the CEO of UMMS spoke at our Medical System retreat for an hour. The only slide he displayed to the audience was his Emergenetics Profile. That was it!
He talked about everything we need to do as a Medical System, our focus, our priorities, our engagement, our communication, our challenges – all with the background of his Profile. When the most senior and respected leader in a large organization frames strategic direction with the background of his personal preferences and his perspective, it's incredibly engaging & empowering.
This toolkit is powerful, if we use it wisely and thoughtfully. Having senior level executives embed Emergenetics into their language, approach and understanding it can enhance and optimize everything we do.
Want to learn more about what Emergenetics can do for your organization? Fill out the form below to connect with our team today.

Print This Post