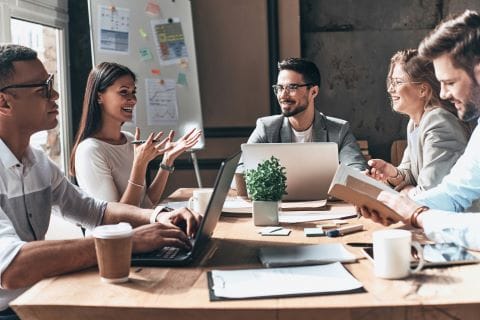 The start of any year creates opportunities to evaluate and plan. What changes do you anticipate in your training and development programs in the next year? What about in the next three to five?
It can feel challenging to answer these longer-term questions with complete confidence. While there may be transformations that we can't anticipate or control, there are a few trends that are here to stay and will shape our working worlds. By starting with a focus on those developments, Learning & Development (L&D) professionals can position their staff and their business for continued success.
4 Trends Affecting the Future of Work
#1 – Shifting Environments
Leaders are offering a mix of work environments from fully in-person experiences to totally remote and everywhere in between. As personnel call for greater flexibility in their approach to work and technologies like virtual reality advance further, workspaces will also evolve well beyond the traditional office.
#2 – Diverse Employee Populations
Businesses have a chance to adjust their hiring practices and benefit from a broader talent pool when they are less reliant on a physical location for their operations. Expanding geographically allows for the possibility for greater diversity in team members, who can bring a variety of backgrounds and perspectives to the organization.
#3 – People-centricity
Workers are rethinking their priorities when it comes to corporate culture, so employers are also re-evaluating their employee value propositions. In addition to flexibility and work-life balance, staff are increasingly seeking an inclusive atmosphere where they are appreciated, have chances to learn and can make a positive impact.
#4 – Constant Change
Automation and artificial intelligence will rapidly reshape the job functions and roles that people are asked to fulfill. Companies that want to keep pace with this progression will need to empower their workforce to embrace ambiguity and continuous growth.
Forward-thinking organizations will utilize training and development to shepherd their personnel into the future of work. By evaluating existing programming, L&D leaders can take the first steps in ensuring their business can meet those demands.
4 Shifts to Optimize Employee Development
#1 – Put Employees First
It's essential that L&D teams focus on their target audience: their employees. Make sure to have regular conversations with staff at all levels to understand their interests, challenges and expectations for career advancement and change. It's also helpful to explore the different ways that people like to take in information and adapt lessons accordingly to incorporate those variations. These discussions will allow those responsible for development to create meaningful programming that drives learner and employee engagement while addressing current issues and providing pathways to long-term success.
#2 – Be Soft Skills Oriented
The rise of automation has created a significant evolution in the skillsets that employees now require. While technical talents still have value, the demand for social capabilities is expanding. Specifically, individuals will need to be proficient in competencies like teamwork, communication, influence and problem solving. Companies are seeing discrepancies between the soft skills they want and the ones available in their talent pools. An internal focus on building social skills can help to close existing gaps.
#3 – Prioritize Inclusion and Belonging
As employee populations grow more diverse, staff will be seeking tools to interact and collaborate in an inclusive way. This is an opportunity for L&D teams to train workers to examine their personal biases as well as help them recognize and appreciate the benefits that come from differences. Amplifying self-awareness and creating a space where everyone is welcomed will produce a happier, more productive workplace because each person will feel encouraged to share their ideas and contribute.
#4 – Rethink Delivery Mechanisms
Hybrid work environments and the speed of change have led to so many new methodologies for training delivery. These adjustments go beyond simply offering in-person and virtual classroom experiences and computer-based instruction. They include solutions like micro learnings, just-in-time offerings and augmented reality. Adult learning theory suggests that a blended approach better supports individual growth, so whether employees are fully in the office or working remotely, taking advantage of these varying technologies will improve the education experience and learning retention.
Addressing these future of work trends is a great way to set the foundation for success, and I recognize that every organization will have its own demands when it comes to stimulating individual and business growth. If you are exploring employee development solutions to help your organization reach its full potential, I invite you to download our Buyer's Guide. Using the guide, you can bring clarity to your trainings priorities and identify partners to support you in achieving your objectives.

Interested in discovering how Emergenetics® can strengthen your training efforts? Take a look at our website or fill out the form below to speak with one of our staff members today!

Print This Post