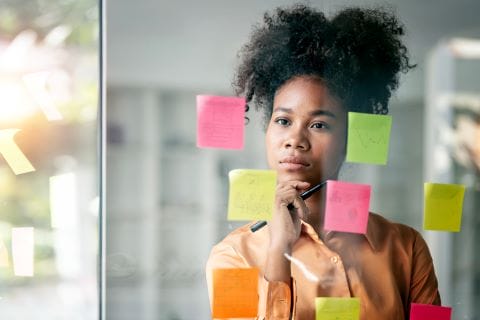 Finding the right partner(s) to support people development can sometimes feel like trying to choose between a plethora of hiking trails on a mountain. Each path can lead to an inspiring destination, and there is rarely enough time to pursue every route in one visit. To move in a positive direction, Learning & Development (L&D) professionals can use seven factors to guide their selection.
#1 – What is the ultimate destination? (i.e., what outcomes do the solutions lead to?)
Most hiking trails promise to take you to an expansive lookout, a babbling brook, a stunning waterfall or some other impressive site. I liken this to the outcomes that can be realized within different training sessions. Make sure to assess how the potential partner's promised destination lines up with the objectives that are most relevant to the company and the skillsets that are being prioritized internally.
#2 – Who is going on the journey? (i.e., which employee populations are supported?)
It's important to reflect on who will be participating in the experience to choose the right path. Some training offerings may focus on particular communities, such as executives, emerging leaders or intact teams, among others. When vetting providers, review their portfolio of tools and which audiences they tend to serve. I also recommend that L&D teams consider the different learning preferences of their workforce, so they can better match the solutions to staff expectations and needs.
#3 – How simple is it to navigate the trail? (i.e., how easy-to-use are the programs?)
To maximize growth, the lessons and skills that are taught need to be utilized regularly and integrated into day-to-day work. Examine the follow-up resources each provider includes as part of their solution set. Tools such as mobile apps, post-session activities and documentation can enhance application and ease of use. Additionally, evaluate what sort of support the suppliers offer. Some options may include a strategist to shape the program, follow-up conversations with a trainer to get personalized recommendations or a point of contact to discuss questions or share ideas for continuing education.
#4 – What is the terrain like? (i.e., what are the delivery mechanisms?)
Similar to a hiking path, there are many ways that information can be distributed. Companies that operate remotely are likely to need a host of digital tools, like eLearning courses or virtual workshops, while those that are on site may prefer to leverage in-person experiences. It is also important to remember that adults benefit from a blended learning approach. Outlining any constraints that participants may have as well as their preferences for training delivery can serve to narrow in on suppliers who will be able to meet the business' needs most effectively.
#5 – What do the guidebooks say? (i.e., what's the research behind the tools?)
When evaluating solutions, particularly those that come with assessments, I recommend examining the validity and reliability of the offerings. Having scientific backing behind the programming can sway potential skeptics who might be participating. This data can also help organizations select an option that is vetted and can be used with confidence.
#6- Who has traveled this path before? (i.e., what references can be shared?)
Reviewing the case studies and testimonials of each provider can lead to a multitude of insights. In addition to gaining social proof, these resources allow L&D teams to discover different methodologies to implement programming. They can further be used to ensure that the potential suppliers have experience working with organizations of a similar industry, size or use case.
#7 – What is the elevation gain? (i.e., what is the return on investment?)
Like most trails on a mountain, people development solutions often promise to take a team, employee population or company to new heights. When speaking with potential providers, take time to discuss the cost as well as the return that can be expected from the offerings. While fully measuring the impact can be complex, strong partners will have inputs on how to evaluate the investment, whether through time savings, productivity, retention or another metric.
Finding a provider to enhance in-house learning and growth programming is a valuable step for any organization. After all, it's quite challenging (and inefficient) to deliver every educational initiative in house. By taking the time to understand the needs of the company and its team members, and asking the questions above, L&D professionals will be well equipped to choose a strong supplier.
If you are seeking more guidance to bring focus to your training priorities or partnerships, I invite you to download our Buyer's Guide to discover insights into the different points of interest you might expect from potential partners and gain tips to improve the decision-making process.

Learn more about the suite of employee development services available at Emergenetics® International. Fill out the form below to speak with one of our team members today!

Print This Post