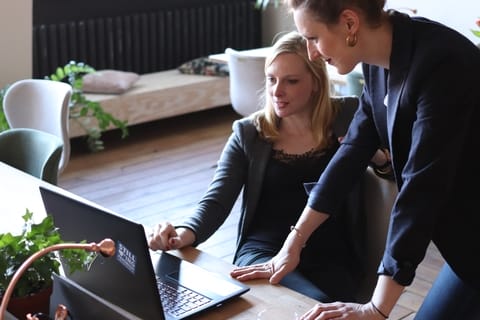 How confident do you feel in your company's succession plan? One of the most important aspects of your organization's longevity is ensuring that you have employees who are ready and able to take on future leadership roles, and surprisingly, only 33 percent of organizations are not presently experiencing a leadership gap.
Employees recognize a company's misalignment as well. One report shares that 63 percent of millennials feel their employers are not fully developing their leadership skills, which could significantly impact their decision to remain at the organization, and further effect your ability to create the talent pipeline your company needs.
If you feel your organization is one of the 77 percent that has a gap in leadership, I invite you to begin closing that gap by considering these six steps:
1. Identify potential leaders
Focus on potential, not performance. The idea, of course, is not to throw performance out the door. The goal is to look beyond how well individuals are performing in their current role and evaluate an employee's interest in leadership, their commitment to relate to others and their passion for moving their vision forward.
2. Provide mentoring and coaching
Pair these high-potential employees with an experienced professional in their field or a related field, who can offer direction and support. Building a trusting relationship as well as defining a mentoring plan will help you get the most from this partnership.
When the two meet, encourage them to use the Emergenetics® Profile to support more meaningful communication. By looking at commonalities and differences, the two can better understand where they may need to flex to meet the other's needs. For additional insights and tips, invite them to connect through the Emergenetics+ app.
3. Challenge them with unfamiliar jobs
Provide employees exhibiting high-potential with opportunities to grow outside of their everyday tasks. Exposing them to new assignments may spark an interest they didn't know they had and encourage them to develop new skills.
At Emergenetics, we often put together cross-functional teams to problem solve, including rethinking our company benefits, redesigning our office space and building our philanthropic giving program. Forming groups with people from different levels and teams strengthens relationships and gives employees a chance to expand their skillsets. By coupling this practice with WEteams, or Whole Emergenetics teams, meaning there is representation from each of the Thinking and Behavioral Attributes, we ensure that the solutions we arrive at consider all perspectives and are more likely to succeed.
4. Diversify learning opportunities
Different employees will find various types of learning engaging, so be sure to strengthen retention of the leadership skills you are teaching by using multiple methods of delivery such as educational articles, local meet-ups, webinars, whole group or one-on-one instruction and self-paced online trainings.
If you know the Emergenetics Profile of the recipient, you will be better equipped to identify their preferred methods for learning. For example, if the employee is in the third-third of Expressiveness and has a preference for Social Thinking, they would likely appreciate a training that involves learning while collaborating with others.
To get a more complete picture of an individual's performance, it's helpful to gather feedback from multiple sources. In addition to their supervisor, you can learn a great deal by speaking with the employee's peers, hearing from clients and stakeholders and having the individual complete a self-evaluation. With this information, you can identify areas for growth and personalize their leadership development to these needs.
6. Acknowledge achievements
Everyone appreciates being recognized for their accomplishments, and it certainly helps retain great employees who you would like to fill your leadership pipeline. When putting a leadership development plan in place, reflect on how you will recognize effort and performance. These actions may include notes of appreciation, a title change, a bonus or a promotion. To make recognition more meaningful, consider the person's Profile and personalize your approach.
One study reports that 87 percent of millennials and 69 percent of non-millennials rate professional or career growth and development as important to them. Consider what you are already doing and where you could improve your efforts to fulfill your organization's needs. Providing thoughtful, strategic development opportunities will support both your employees and your organization, and leadership development is just one aspect – albeit a very important one – to overall success.
Emergenetics solutions can help support your efforts to create a learning culture as well as help you establish a strategic leadership development plan. Fill out the form below for more information.

Print This Post