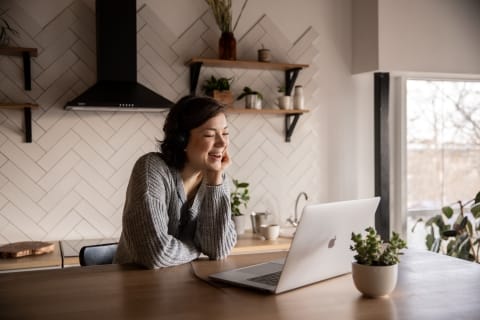 If you told me on January 1, 2020 that we would soon experience a global pandemic, navigate shelter-in-place orders, add masks as our new "must-have" accessory and have our workforce be entirely remote, I would have thought you were crazy. I can certainly say that I did not factor any of those considerations into my plan when I met with the North American team in January to chart our course for the year.
For many leaders, we feel a sense of pride in providing a compelling vision, identifying targets and confidently guiding our team toward new horizons. 2020 has served as a reminder for all of us that, no matter how brilliant our plans may be, we cannot know what changing tides we will face.
Most importantly in my opinion, 2020 has served as a reminder that in times of crisis – and calm – your people are what matter most.
When I look back on my experiences so far in leading Emergenetics® and STEP (Student│Teacher Emergenetics Program)™ through these uncharted waters, I believe our leadership team's focus on our employees is what has allowed us to quickly adapt in our rapidly changing world.
Below are five recommendations to help your company find its way by focusing on your staff.
1. Make employee wellbeing a priority.
From the outset of the pandemic, employee wellbeing has been one of our priorities. COVID-19 has caused our physical, mental and emotional states to ebb and flow, and our team leaders recognize how important it is for all staff to take care of themselves during these uncertain times.
Those of us familiar with Emergenetics also know that self-care means different things to the different Attributes. To support the varying needs of our employees, we have offered team members the flexibility to practice self-care and allocate their time in the way that best supports their own wellbeing.
By giving employees the freedom to adjust how they work and respecting the many hats they wear as employees, family members and residents of their communities, our staff are in a better position to navigate change, minimize burnout and bring their best selves to their work, which in turn helps our business run more effectively.
2. Create regular opportunities for connection.
To minimize the disconnect many remote employees feel with one another and their company, we have proactively created opportunities for staff to get together virtually. At the onset of COVID-19, we hosted weekly virtual meetings to keep employees up to date on new developments and included small group breakout sessions to surface feedback on our next steps. While we've adjusted the frequency of our gatherings to once a month, our leaders remain committed to transparently share information with employees on an ongoing basis through regular team or small group gatherings and email updates.
We also provide opportunities for staff to connect through social events multiple times each month. The gift of Emergenetics is that our team recognizes that each of our employees has different needs and interests when it comes to connection, so we have leaned on a WEteam (or a group of cognitively diverse individuals) to provide different ways for staff to get together. Some of the brilliant events we've hosted across our global offices include:
Pairing up employees for one-on-one coffee chats
Hosting morning centering or meditation exercises
Competing in virtual escape room or fitness competitions
Building a playlist with inputs from all staff
Hosting virtual teambuilders like creating floral centerpieces to brighten our home offices or getting together for online happy hours
By making employee connection a priority, we have been able to maintain our strong relationships, provide transparent information and help our team members stay engaged despite constant ripples in their working world.
3. Paint a picture of a positive future for your employees.
Although our plans for 2020 changed seemingly overnight, amazing possibilities remain on the horizon. Since the start of the pandemic, I have worked hard to maintain an optimistic outlook. I've looked at the challenges we've faced as opportunities to improve and grow. And I have brought that positive mindset to every staff meeting we hold.
Even in turning tides, we have maintained our belief that there is a so much possibility for our company, and our leaders have helped team members to identify specific contributions that they can make to support that positive future. By helping staff envision the role they play in our organization's success, we've supported their engagement and motivation.
We've also seen an incredible amount of productivity. In the past six months, we've launched three virtual products as well as several free guides and resources for clients to use Emergenetics to their advantage in times of uncertainty. By showing employees how they fit into the future of the company and promoting a mindset of potential rather than obstacles, our staff has adapted with positivity and confidence.
4. Show employees you trust them.
To successfully navigate virtual work, we need to have faith in our staff to effectively perform their job roles, and when employees feel that they are trusted, valued members of the team, you can also increase their motivation.
Giving employees autonomy is a powerful indicator of your confidence in them. I also encourage you to find ways to show trust in your employees by seeking their input and allowing their strengths to shine. One way we have sought out our employees' voices is by forming cognitively diverse task forces that include members from various job functions to direct new initiatives like identifying opportunities to further digitize our products.
By encouraging staff to bring forward their ideas and providing them with a role in steering the priorities for your organization, employees gain valuable leadership skills, identify areas for improvement and further engage in work, which helps drive productivity and profitability.
5. Recognize your staff members.
In times like these it's especially important to recognize the achievements of your team. As our organizations work toward a positive future, we need to take time to celebrate milestones and encourage one another to keep going.
Recognition can and should take many forms to reflect the preferred Emergenetics Attributes of your team members, and it can be especially meaningful when positive feedback comes from a high-level leader. At Emergenetics and STEP, we regularly share celebrations through quarterly emails that recognize the work of our global offices, shoutouts in team meetings and announcements in our monthly happy hours to honor employees who are exhibiting our core values.
Acknowledging team members for the work they are doing can help your staff feel appreciated and motivate them to continue supporting the efforts of the company despite any headwinds they may face.
During turbulent situations, many leaders often feel the pressure to be the one person who leads their staff to calm waters. By putting your people first, you can free your company from putting too much pressure on one individual and motivate your entire team to raise new, brilliant ideas to support the success of the business.
Of course, the reality of work is that it is not always smooth sailing. However, when you show your people that you care about their wellbeing, demonstrate your trust in them and celebrate them, your company will be in a much better position to thrive when the unexpected becomes the new reality.
Discover how Emergenetics can help you build a culture that puts your people first. Fill out the form below to connect with our team today!

Print This Post