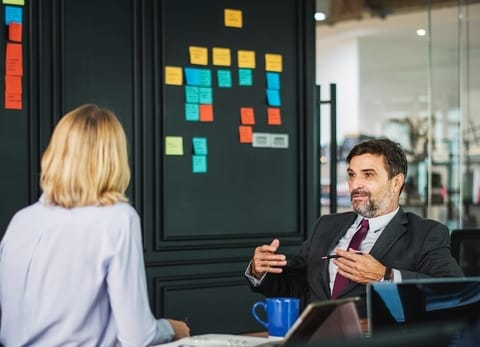 I have had quite a few meaningful mentors throughout my life and have served as a mentor myself. Some of these relationships happened organically; others in a more formal fashion. Whether I was providing or receiving mentoring, however, I was struck by how much I benefitted from this experience.
For organizations considering establishing or expanding a mentorship program, the process can be deeply meaningful to employees. SAP Software Solutions analyzed a number of studies on the topic of mentoring. Their summary concludes that mentored employees experience improved career outcomes, higher engagement and retention. The benefits extend to the mentor as well, leading to greater job satisfaction, career success and work-related fulfillment.
Whether you are a mentor or leading a mentoring initiative at your organization, I invite you to consider these five suggestions to ensure participants get the most out of the partnership.
1. Develop a relationship.
Depending on the circumstances, it's possible the mentors and mentees won't know each other well or at all. Expect the first few interactions to focus on simply building relationships. Taking this time up front will help create trust, leading to more impactful mentorship in the long run.
To accelerate your relationship building, I invite you to use an assessment like the Emergenetics® Profile to get valuable insights into your mentor or mentee before you meet. Understanding their Thinking and Behavioral preferences will provide you with tips for interacting. For example, if the other person is in the first-third of Flexibility, you'll know that sticking to the prearranged meeting time will likely help you earn their trust.
2. Clarify expectations, roles and logistics.
What is each person looking to gain from this relationship? How often would you like to meet? Will the meetings be in-person or virtual? Be careful not to make assumptions, and take the time to have an open conversation about each person's goals and preferred communication styles.
One activity I recommend to support this process is called "3-2-1." Each person prepares their answers to the following questions before the meeting:
Name three points from your Profile that align with your communication style.
Share two points of your Profile to be aware of when working with others.
Share one important consideration for others when they are communicating with you.
Starting your relationship with open communication and clear expectations will enhance your ability to work well together.
3. Develop a plan.
Helping a mentee build greater self-awareness is a great place to start. Use the Profile to guide the conversation: How do they use their preferences to succeed? What do they see as their strengths? If someone is aware of their strengths as well as areas they would like to improve, it will be easier for the mentor to know how to guide them.
In addition to the teachable abilities needed to do a job well, remember the importance of soft skills. Harvard Business Review recommends focusing on character rather than competency, stating that the best mentors are those that can help shape and model value-based qualities. Let the mentee's goals drive your plan and then use your expertise to build their confidence and offer direction.
4. Support and encourage.
Although sometimes used interchangeably, the role of a mentor is not the same as a coach. A mentor-mentee relationship focuses on the long-term. Instead of addressing specific behavior modifications and improvement, a mentor serves as a cheerleader and advocate.
In addition to providing positive feedback, encourage your mentee to break out of their comfort zone. Part of bringing out the best in another person is helping them build confidence by expanding their capacities. As I consider the mentoring relationships that were most impactful for me, one common thread that runs through them is that they challenged me in areas that were scratchy.
With Emergenetics we use the term "flexing" when we talk about stepping out of our comfort zones. A mentor with an understanding of all the mentee's preferences is in a unique position to encourage adaptability and invite them to work through their strengths to grow in areas where they may not have a natural preference.
5. Check in periodically.
What is working at the beginning of the mentorship might not be as effective a few months down the road. Be sure to take a step back, check in and reevaluate the path you are on. A great mentor is open to feedback and changing course if it is the best interest of the mentee. Remember, mentoring is a learning experience for you both.
In thinking about my experience as a mentee, although scratchy at times, I can see now that the pairing ultimately helped me to value those with preferences other than my own and allowed me to experience the benefits of cognitive diversity in a mentoring relationship.
If you have the opportunity to become a mentor, I highly encourage you to give it a shot to provide a new perspective to a colleague, to build skills yourself and to increase your own work-related fulfillment. Think back to an important mentor in your life and what made that relationship effective and meaningful. Consider those takeaways as well as the five tips I have outlined here to guide your success.
To learn more about how Emergenetics can support and enhance your mentoring efforts, fill out the form below to contact our staff today!

Print This Post