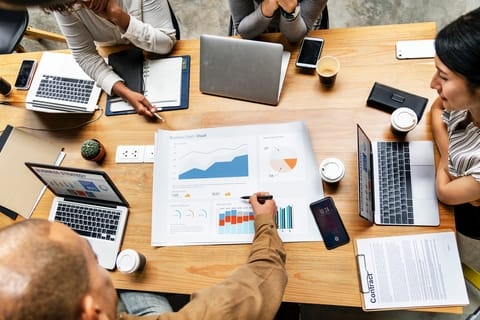 Data is everywhere. Even teams that five years ago were rarely asked to show a return on investment (ROI) are now tasked with demonstrating whether their programs are worth the cost.
For Human Resource initiatives that address hard skills, this request is relatively easy to manage. When it comes to programs that focus on soft skills like improving communication, problem solving or teamwork, it can be challenging to show ROI. To demonstrate the value of your trainings, consider the following questions:
Why are you measuring the return on training & development programs?
What should you measure?
What tools can help you assess the ROI of your training programs?
What considerations should you be aware of?
Why Are You Measuring the Return on Training & Development Programs?
There are a number of data points you can use to show impact. I recommend using metrics that reflect the larger goals or objectives you are trying to achieve within your organization.
The first step is to understand why you are tracking an ROI. If your first answer is because your CFO asked you to, I understand and invite you to think further.
Why are you providing these training programs? What are you hoping to accomplish? How do your initiatives tie into the vision and strategic goals of your organization?
Once you understand the big picture, you can more easily consider the specific business outcomes and metrics you wish to analyze.
What Should You Measure?
No organization is the same, so the answer to this question is dependent upon your overarching objectives and goals. As a starting point, I encourage you to consider what metrics would be of interest to each of the Emergenetics® Thinking Attributes, and we'll cover the three Behavioral Attributes in a bit.
The Analytical Attribute appreciates data in general and is especially interested in big picture outcomes, such as greater efficiency, improved productivity or an increase in sales.
The Structural Attribute will likely want to understand the practical applications of your training. To satisfy this Attribute, consider metrics that show how learnings from your programs are weaved into daily work and contribute to everyday performance.
The Social Attribute is likely interested in how your trainings improve metrics like employee engagement, customer satisfaction as well as relationships within teams or between employees and managers.
The Conceptual Attribute will gravitate towards metrics like increased innovation and growth as well as measures that support your vision. For example, if your mission is to be the most customer-centric company in your industry, client satisfaction will likely captivate the Conceptual Attribute.
These are just a few possible metrics to track. Remember: start small and be realistic. Consider your training and implementation plan to assess what metrics can be reasonably tied to your initiatives as well as which ones you can actually track.
What Tools Can Help You Assess the ROI of Your Training Programs?
Just as there are many metrics, there are many ways to measure. A few options include:
Pre- and post-tests
These tests can be self-reported or use quantitative measures. As a self-reporting scenario, if you host a Meeting of the Minds workshop, you may ask your attendees about their confidence in communication or in partnering with team members with different working styles before and after the program to assess if the training has made a difference.
For quantitative metrics, you will need to collect measurements such as time or quality metrics, before and after the training. For example, if you are measuring how the Power of WE Accelerating Team Performance workshop improves efficiency, you might track the length of time it takes for the team to complete a project before the workshop versus after the workshop. Using salary information, you can assess the monetary impact of any time savings.
Survey results
Internal surveys can help you understand how your trainings affect learning and metrics such as employee engagement, which can in turn contribute to productivity and retention rates. We recommend that you include questions related to training and development in surveys of your staff whenever possible.
External surveys can help you assess a training's impact on those outside of your company. If you expect the Meeting of the Minds workshop will strengthen interactions between your employees and customers, you may track customer satisfaction through Net Promoter Scores or referral and repurchase rates to assess impact.
Competency assessments and on-the-job tasks
To uncover whether the learnings from your trainings are implemented successfully, you can use competency assessments, online simulations or in-person role-play to evaluate understanding.
You can also work with managers to provide on-the-job assignments that connect to the desired outcomes from the training. If you have recently hosted a Power of WE Respecting Differences workshop, for example, you might put attendees into a cross-functional team and have their managers and team members assess their ability to collaborate.
Performance reviews
Performance reviews from managers and 360 reviews from individuals across your organization can shed light on employee engagement, professional growth, leadership development, communication and more. Through year-over-year or quarterly comparisons, you can see how trainings have supported various metrics and contributed to greater engagement or better intra-team relationships. Paired with metrics around productivity and retention, these metrics can translate into powerful quantitative measures for your organization.
What Considerations Should You Be Aware of?
As you build your plan for measuring ROI, I invite you to take a moment to reflect on the Emergenetics Behavioral Attributes.
From the lens of Expressiveness, consider how you are communicating the intended outcomes. Be clear about the goals of your trainings and how success will be measured. Provide multiple ways for people to share feedback such as anonymous surveys as well as in-person focus groups.
Looking at the Assertiveness Attribute, reflect on the pace of your measurements. Track short-term and long-term metrics to identify quick wins and strategic success. Strike a balance between asking for instant feedback while also giving your trainings time to sink in before measuring outcomes.
From the lens of Flexibility, assess what elements were consistent across trainings and what changed. Ideally, as you lead the same trainings, you will have an identical experience in order to truly compare outcomes between sessions; however, that may not be possible. Consider how these differences may have influenced your outcomes.
Measuring return on investment can be challenging. Still, knowing whether your programs are effective and contribute to your organization's success is imperative. If you spend the time upfront to consider these four questions, you will be in a much better position to show the ROI of your training and development initiatives.
Interested in discussing how you can measure the return on investment of your training and development programs? Fill out the form below to connect with our team.

Print This Post