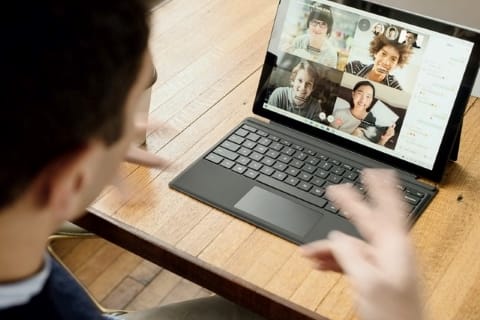 High performing teams are an asset to their companies and their members. After all, it's much more engaging to be part of a successful, united and dynamic group than a ho-hum one!
With the increase in remote and distributed workforces, effective collaboration may feel a bit more elusive than in the past as distance can introduce more siloes and disconnection. However, you can still create the conditions for high productivity by helping staff to appreciate the strengths of their colleagues, respect one another's work preferences and utilize cognitive diversity to drive results.
Four Resources to Improve Collaboration for Geographically Dispersed Teams
As an Emergenetics® Associate, you have a number of tools at your disposal to empower employees with the knowledge and practical strategies to work effectively with their colleagues. To boost collaboration, I invite you to:
Promote Understanding
Explore Team Preferences
Identify Individual Influence
Recognize Cognitive Diversity
1. Promote Understanding
Successful teams typically have a foundation of trust. You can help individuals build confidence in one another by advancing understanding of how colleagues prefer to work, finding common ground and celebrating the brilliances that come from differences.
Try using one of our introductory workshops (Meeting of the Minds or Team Dynamics for Small Groups) to encourage staff to learn about each other, value one another's innate gifts and recognize the role of cognitive diversity in enhancing outcomes.
Even if employees have already experienced a Meeting of the Minds, you can use Team Dynamics for Small Groups to dive into attendees' individual Emergenetics Profiles. By taking time to explain the tendencies of their coworkers, you can help participants to:
Recognize how their colleagues prefer to interact and complete tasks
Discover individual strengths and their impact on collaboration
Identify strategies to improve communication and problem solving
2. Explore Team Preferences
When groups are self-aware, they are better able to utilize their brilliances and navigate potential blind spots. To reinforce self-understanding, share the team's Group Profile Report available in Emergenetics+. Using the information in the report, you can:
Provide a high-level picture of their collective Thinking and Behavioral preferences
Share insights into group strengths and their impact on dynamics
Highlight Attributes that may require more energy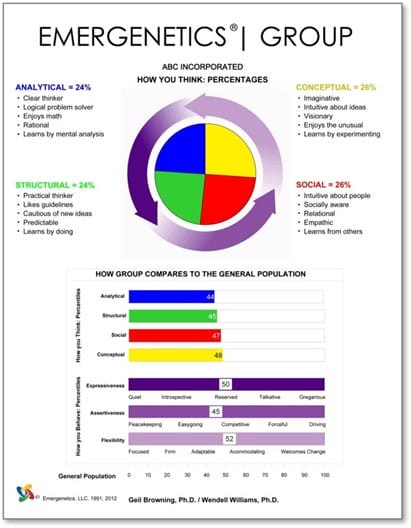 The Group Profile Report can illuminate why the team gravitates toward particular work styles. You can use the information to provide insights into how they can use their strengths to achieve goals.
The report can reveal where the team may feel scratchiest. Particularly in small groups, you may find that certain Attributes are in preference for just one or none of the members. Help employees to be aware of these potential blind spots and the impact they may have on work.
3. Identify Individual Influence
In addition to gaining a collective awareness, it's important for staff to recognize how each individual contributes to the overall dynamics so they can adapt their practices to minimize intent-impact gaps and be more productive. Using the Dot Graph available in Emergenetics+, you can:
Offer a visual of the intensity of the team's preferences for each Emergenetics Attribute
Identify group and individual tendencies
Create context into how each person's preferred Attributes impact the collective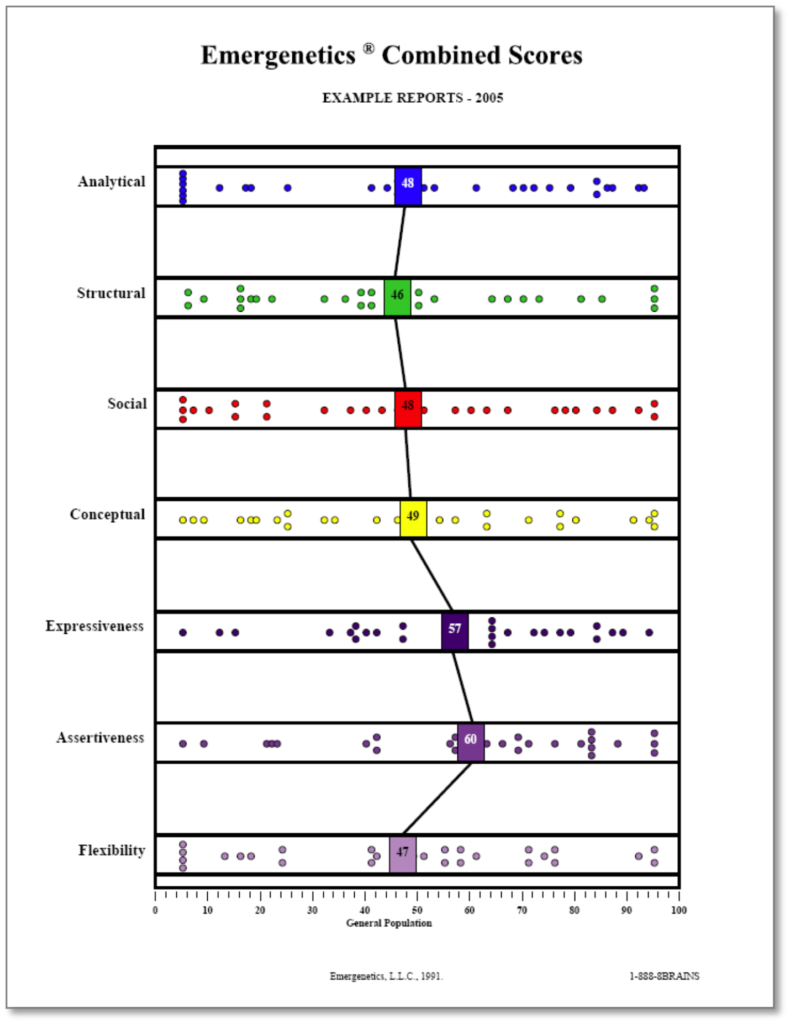 When reviewing the Dot Graph, ask individuals to highlight their dots in each Attribute so that colleagues can easily identify commonalities as well as differences with one another. To enhance teamwork, offer strategies to help colleagues at opposite ends of the spectrum bridge gaps by:
Connecting on the Emergenetics+ mobile app to get on-demand communication tips
Utilizing the Attributes in Action Guides in Emergenetics+ to improve interaction and collaboration
With the overview you provide, staff can reference the Dot Graph and their digital resources to better support the needs and interests of their coworkers.
4. Recognize Cognitive Diversity
Successful teams not only share a common understanding and appreciation for one another's strengths; they also tend to be cognitively diverse. Using the WEteam Report available in Emergenetics+, you can help employees to:
Visualize each individual's Emergenetics Profile
Identify whether there is a natural foundation of cognitive diversity
Recognize Attributes that are not in preference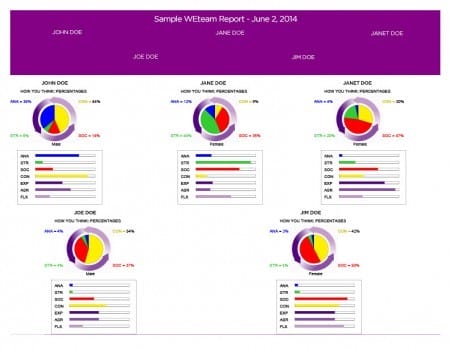 The visual nature of the WEteam Report makes it easy for individuals to quickly assess the diversity of thought present in the group. If you find that a particular Attribute is out of preference or under-represented, provide ideas to consider cognitive diversity including:
Inviting another staff member with that preference into the conversation
Sharing a blank Emergenetics template as a visual reminder to consider all Attributes
Engaging in WEboarding, where each Attribute is listed on a (virtual) whiteboard. As groups brainstorm or problem solve, they should note considerations for every preference
By bringing awareness to diversity of thought and offering strategies to bridge gaps, employees can reap the benefits of cognitive diversity through more effective problem solving, innovation and ideation.
Whether your employees are navigating the ins and outs of remote collaboration or striving to raise their level of performance in the office, Emergenetics' tools and resources can serve as building blocks to support their success. With ongoing attention to the strengths of staff and a true appreciation for the perspectives of others, you can create a strong foundation for high-performing teams all across your organization.
Interested in becoming an Emergenetics Associate? Learn more about our Certification programs or fill out the form below to speak with one of our team members today.

Print This Post