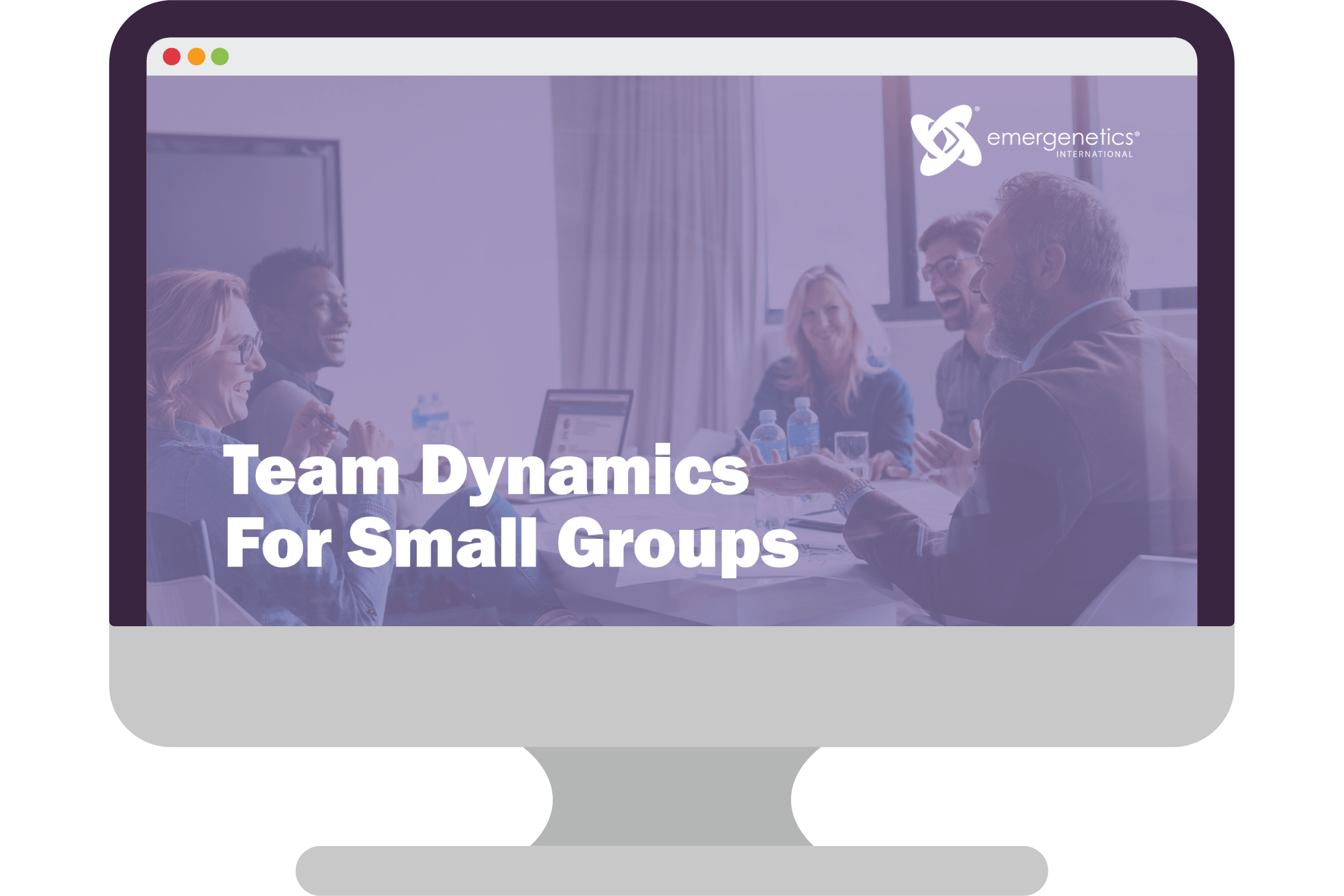 In a recent webinar, my colleague Bill Zubek and I had an opportunity to share some of the key ingredients for success when delivering a Team Dynamics for Small Groups workshop. For any Emergenetics® Associate who may have missed the event or wants a refresher, I'd like to highlight four tips from the presentation that can enhance the participant experience.
#1 – Prioritize Real Life Examples
Attendees of Team Dynamics for Small Groups will have already received an introduction to the Emergenetics Attributes from the Fundamentals eLearning course. That means Associates have an opportunity to focus less on teaching the ins and outs of each preference and more on describing how they show up in real life. Painting a picture of the Attributes can stimulate new ahas, connections and understanding.
For ideas on what sorts of examples to showcase, visit My Library in Emergenetics+. In the Attributes in Action section, you can get inspiration from the many available guides, which share tips on how each Attribute likes to give recognition, set goals, experience a presentation and more. There is also an aptly named resource in the Training Materials section called "Connections to Real World Examples," which offers additional suggestions.
#2 – Invite Conversation
Part of the power of Team Dynamics for Small Groups comes from the insights and surprises that employees discover while learning about themselves and their colleagues' Profiles, so it's important to get the conversation going. Identify a few open-ended questions to promote discussion, such as:
What do you notice about your colleague's Profile and how it shows up at work?
What do you appreciate about this person's Thinking and Behavioral preferences?
What commitment would you like to make to better honor the needs of the group?
Additionally, proactively determine different methods to support the communication styles and particularly the Expressiveness spectrum of your attendees. While third-third Expressive participants may very need little prompting, create space for those in the first-third by utilizing the chat feature and making sure staff know when it will be their turn for their debrief.
#3 – Listen for and Correct Assumptions
As attendees start to share, it's common to hear some assumptions or biases emerge in conversation. For example, I've often heard people act surprised when they see a colleague does not have a Structural preference and yet they seem so organized! These statements are great opportunities to reframe preconceived notions. Everyone can be organized – regardless of preference!
When those sorts of comments arise, make sure to reiterate that the Profile reveals a person's preferences, not their abilities. To further understanding and dispel assumptions, ask the participants concerned to share their perspectives about how they work through their strengths to be successful in their role.
#4 – Unlock New Applications
Sometimes, people assume that the Team Dynamics for Small Groups webinar is only for intact departments. While the program is relevant for them, providing insights into how to work more effectively with colleagues is useful in any aspect of work.
To boost collaboration within an organization, offer to host the workshop to support other sorts of groups, including newly formed project or long-standing cross-functional teams. The session can be a powerful supplement to any meeting to amplify communication, cooperation and effective problem solving. The program can also serve as a deep dive after a Meeting of the Minds or give leadership a taste of how their staff can benefit from Emergenetics.
Team Dynamics for Small Groups is a versatile and fun session. In my experience, the discussion leads to new discoveries, practical strategies and a lot of laughter! To learn more tips and tricks to deliver this engaging workshop, I invite you to review the full webinar on Emergenetics+. Simply log in as an Associate and look for the recording under Training Materials in My Library.
Discover more ways to apply Emergenetics within organizations. Explore our website or fill out the form below to connect with one of our staff members directly.

Print This Post