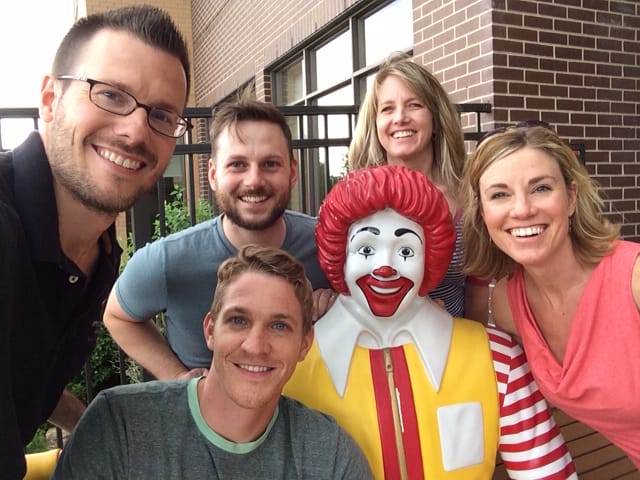 For the past two Fridays this June, the Emergenetics International Denver office volunteered at the Ronald McDonald House of Aurora, serving lunch to the families staying there. In addition to just being a great opportunity to bond as a team, there is a larger purpose at play. Our business is built on helping people flourish and thrive, and that is reflected through our corporate social responsibility.
Studies show that more and more of the workforce want to be part of a company that impacts the world around them. That is especially true of millennials. Harvard Business Review found that roughly 50% of the global millennial workforce wants work that connects to a larger purpose. It stands to reason that employee engagement is likely to be impacted by a company's stance on corporate social responsibility.
At Emergenetics International, our company culture centers on how social responsibility engages the total employee—in both work and life. Many times throughout the year our office spends the day as a team serving out in the community. Additionally, in our US offices all employees are provided two paid days for volunteer service every year, working with the charity of their choosing. Many exceed this, contributing to recurring programs like Junior Achievement.
Considering the benefits companies experience from higher engagement engagement- according to Hewitt Associates, companies with higher levels of employee engagement outperformed the stock market by nearly 20%– it is important to take a look at what's motivating your employees.
Because of Emergenetics, we know that just being involved in a charity might not resonate with everyone on the team. Taking a WEapproach to corporate social responsibility is likely to increase your ability to actually engage your workforce.
Analytical thinkers will appreciate facts about the charity and having established objectives in place. These people will want to know how it makes the company better.
Structural thinkers will appreciate having a clear framework in place for the organization's stance on corporate social responsibility and how much time and effort should be devoted to it by each contributor.
Social thinkers will be relieved that the human dimension is being considered, and if you're just getting started, they likely to have many ideas about organizations that could be the beneficiary of the company's efforts.
Conceptual thinkers might want to discuss this in context of the company's mission and are likely to have interesting ideas for how the company can impact the charity.
Depending on their spot on the Expressiveness spectrum, some employees might prefer to just write a check or volunteer without public recognition, whereas other employees will show their excitement and are likely to expect public recognition.
Those in the third-third of Assertiveness will likely appreciate being able to delegate tasks; those on the first-third are more likely to ask questions about what needs to be accomplished.
Employees in the first-third of Flexibility are more likely to get on board with the initial plan and will appreciate consistency from year to year. Those in the third-third will be more accommodating of an ambiguous approach to corporate social responsibility but would benefit from a focused plan.
This approach can be used in all areas of an organization, from corporate social responsibility to performance reviews to providing recognition. We all have unique preferences in thinking and behavior, and ensuring your programs speak to all attributes, your raising your chances at increasing employee engagement and stoking higher levels of performance.

Print This Post