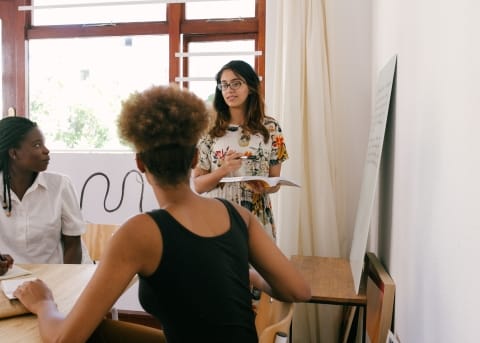 What is your organization striving to achieve?
Maybe you're concentrating on a digital transformation or launching a new product. Perhaps you're looking long-term and thinking about how your company will adapt to support its vision. Wherever you are focused, prioritizing professional growth can help you find success.
When businesses are actively pursuing their goals, sometimes learning can get put on the back burner as other (seemingly) more immediate needs get addressed. While you may be completing some important work, there are real risks in overlooking training.
As you evaluate your organizational priorities, below are five reasons why learning and development (L&D) should be an integral part of your strategy.
#1 – Talent development helps attract great new hires.
In a recent survey, talent acquisition was reported to be one of the top things keeping HR professionals up at night. As more jobs open up – and more companies are willing to hire remotely – organizations need to find ways to stay competitive to attract employees. One way to do that is by creating and promoting learning programs.
While all generations appreciate having an opportunity to grow, it is particularly critical as younger workers make up a higher percentage of your applicant pool. In fact, 87% of millennials rate professional development as important in a job, and L&D offerings also win over Gen Z. To attract the right people, make sure you provide them with opportunities to learn.
#2 – Training enhances employee retention.
In that same survey of HR professionals, their other primary concern was keeping talent in-house. With the Great Resignation looming, L&D can help you retain your best team members, especially when you consider that 93% of employees say they will stay longer at a company that invests in their career growth.
Losing great colleagues can be costly, so it's important to empower them to obtain new skills to build a fulfilling career within your organization. Through upskilling, reskilling, job shadowing and career pathing, you can make a positive impact on retention.
#3 – Business needs have evolved and will continue to do so.
There are few (if any) companies that survived the pandemic that did not make some significant adjustments to their operations or offerings. With those transformations comes the demand for new competencies. If you do not invest in training, it will be challenging to get your staff up to speed so that they can successfully meet your needs today.
Moreover, additional disruption is on the way. By 2030, the World Economic Forum estimates that over one billion people will have to be reskilled to keep up with the pace of change. That means L&D is not just a short-term strategic priority – it's imperative to the long-term health of your business.
#4 – Professional development can boost adaptability.
As your company evolves, your people need to adapt along with it. That sort of transformation extends beyond teaching them how to perform essential job functions. Employees can also adopt a mindset that embraces constant advancement.
Talent development programs help staff build resiliency in the face of change. Through L&D offerings, individuals discover how to work differently to be more effective in their roles. By taking part in trainings that encourage them to approach situations in new ways and adopt new technologies, staff can feel more comfortable doing things they have never done before.
#5 – Learning can support innovation.
To meet the future needs of their clients and stay ahead of the competition, companies must have employees who are willing and able to share ideas that improve upon or revolutionize their work. Engaging in training can spur innovation.
Educational initiatives expose your teams to different ways of operating and thinking, which can inspire further changes and improvements. Also, learning programs can be a safe space to share ideas and try new things, which can promote a healthy appetite for risk taking.
While L&D can certainly support your tactics by empowering employees to perform their job functions, it can be so much more effective when you recognize learning as a business driver. By integrating talent development into your acquisition, retention and growth strategy, it can propel your company forward.
Discover how Emergenetics® can boost your L&D programs. Fill out the form below to speak with one of our team members today or explore our offerings for organizations.

Print This Post