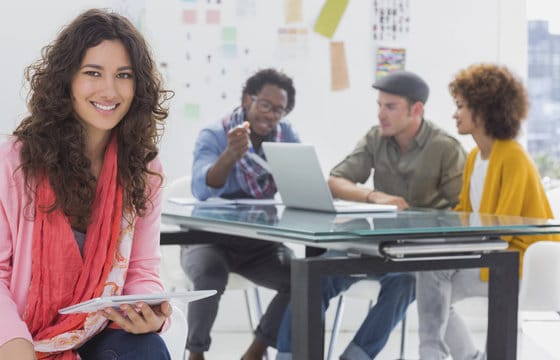 Millennials are connected and collaborative – Here's how to capitalize on these valuable tendencies.
The millennial generation, now cascading into employment, will shape the world of work for years to come. Right now, only 7% of corporate America is "Millennials." Over the next 12 years, that number will rise to 75%!
This is the future of your work and your organization—attracting and leveraging the best of these millennial workers is critical. Their career aspirations, attitudes about work, and knowledge of new technologies will define the culture of the 21st century workplace.
So how do you manage this burgeoning millennial generation? This is the generation of connection. Collaborative work isn't part of the way they learn, it IS the way they learn.
As leaders, we need to create a more collaborative management approach that matches their approach and embodies connection, while still clearly focusing on the greater business goals. It's about deciphering how this generation works and what connection and collaboration mean on a day-to-day, application level.
Getting to that level of granularity means understanding this audience from multiple perspectives. On the surface there are key differentiators with Millennials and the way they work.
Millennials are technologically savvy—they grew up with laptops, the internet, and iPhones. More importantly, tech shapes their work.
Millennials are first adopters—they embrace new concepts, ideas, and technology, rather than resist it.
Millennials are so well networked they are never truly alone.
However, the challenge with any group of employees within an organization is realizing that one approach won't work across the board. Collaboration and connection may be part of the millennial DNA, but those qualities aren't one size-fits-all. A tech savvy organization doesn't just automatically connect with Millenials, let alone older employees.
Research out of USC echoes this idea, challenging leaders and organizations to address collaborative management by focusing on "how new technologies can change the nature of work for everyone, not just the younger generation."
Leadership for the millennial generation is not that dramatically different—it's still about understanding them better. It's about uncovering unique desires for acceptance and connection and realizing how these desires may differ from their peers or from workers from a different generation.
There are concrete ways to ensure that Millennials are getting the most from your organization and that you're getting the most from them.
Encourage collaboration and provide clear, realistic roadmaps for growth and development.
Really understand the personal and professional goals of connection and collaboration for each employee.
Challenge millennial employees to communicate in different ways.
Provide flexibility to cater to a new working environment that Millennials can both embrace and thrive in.
Provide development opportunities. Millennials want to experience as much training as possible.
Focus on building and measuring effectiveness around collaboration so you can create a sustainable approach to the aspects of work that matter most to Millennials.
It's a new world and it's changing rapidly, but it still comes down to relationships and understanding your people, no matter what decade they were born in.

Print This Post