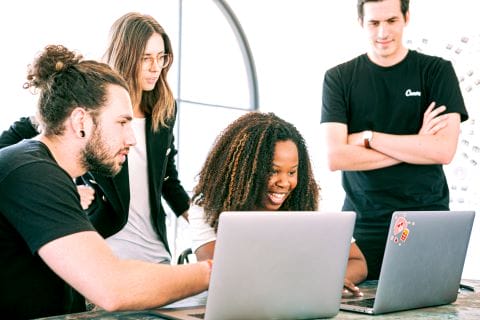 Team members who are connected and committed tend to be more effective employees. In fact, the Hay Group identified that engaged employees were generally 43 percent more productive than their counterparts.
However, I would contend that engagement alone is not necessarily enough to drive productivity. Employees also need the motivation and capabilities to do their jobs successfully.
As a talent developer, HR leader or people manager seeking to increase your employees' effectiveness, I invite you to consider how these three factors interact and focus your energies on engagement drivers that also connect to motivation and skill building.
The diagram below illustrates essential components of engagement as researched by Quantum Workplace, motivation as identified by TINYpulse and employee capability.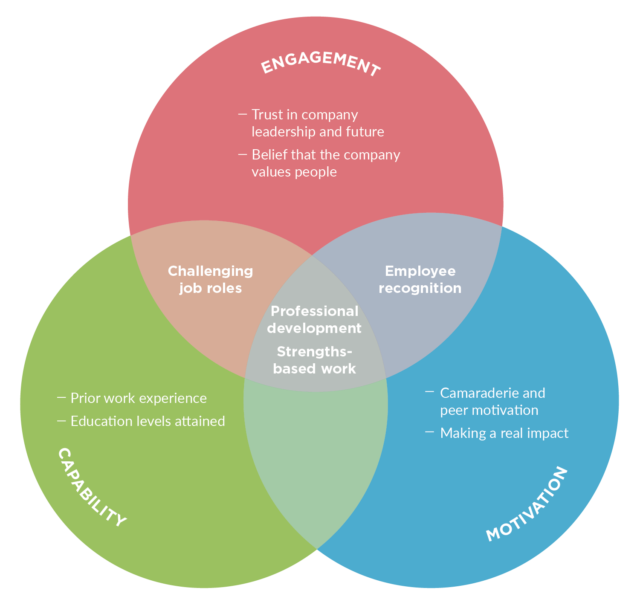 We can see that professional development and strengths-based work assignments can be major factors across all three areas with challenging job roles and employee recognition programs also making positive contributions to two of the three topics.
To help your employees be more productive, start by building programming that supports these overlapping sections, specifically:
Professional development programs
Stretch assignments and strengths-based job roles
Employee recognition platforms
Expand Your Professional Development Programs
Learning and development are essential to supporting engagement, inspiring staff and providing individuals with the skills they need to do their jobs today and in the future.
To increase output through training, use the following question prompts to start formulating your next steps:
Do employees at all levels – not just leaders or managers – have access to consistent professional development opportunities?
Are employees actively encouraged to take time out of their days to attend trainings?
Are you/your managers proactively coaching employees to help them grow?
Have you identified skills gaps in your organization?
What upskilling and reskilling programs do you offer to workers?
Are you providing a mix of technical and soft skills trainings?
By investing in employees across the board, ensuring that they have time to learn and creating growth opportunities that speak to current and future needs in your company, you can help staff become more effective and connected to their work.
As you develop your programs, I encourage you maximize your soft skills trainings with programs like Emergenetics®, which will help employees gain lifelong skills that support future career success and address skills gaps.
Provide Stretch Assignments as well as Strengths-Based Work
The data from Quantum Workplace suggests that employees will be more connected to their work when they are both challenged in their jobs and given opportunities to use their strengths.
To help staff build new skills while engaging and motivating them, partner with managers to help them identify opportunities for individuals that align with their gifts as well as stretch their knowledge by considering the following:
Does this person have a chance to use their strengths each day?
How are we challenging them to work outside of their usual preferences?
What are their likely next steps in their career?
What skills will they need to fill these roles?
What upcoming projects could they be part of to build necessary talents?
Providing a mix of strengths-based work and new challenges will demonstrate to employees that you are interested in their growth while simultaneously supporting succession planning in your organization.
Amplify your work by using strengths-based assessments, like the Emergenetics Profile, to gain insights into employees' gifts as well as the projects that may challenge them so your managers and HR leaders can better tailor their next steps.
Build a Robust Employee Recognition Program
Last year, I had the opportunity to see Seth Godin speak at the ATD 2019 International Conference & Exposition. One of his primary messages (recapped here) was simply that people want to be seen.
That concept certainly carries over to our work as talent developers, HR leaders or managers. Employee recognition goes a long way, and it doesn't always need to involve compensation or promotions.
As a few thought starters to improve your appreciation programs, ask yourself:
Do we have an employee recognition strategy?
What elements are included in our current program (e.g. tenure-based celebrations, peer-to-peer recognition, financial compensation, awarding additional benefits, public shout outs at meetings, etc.)?
How often do we recognize employees?
Do employees have any choice in the sort of recognition they receive?
Are managers trained on how to praise and support employees?
A robust employee recognition program can make a real difference to your staff. And, it can be even more effective when coupled with programs like Emergenetics, which can help you understand how to honor each individual according to their unique preferences.
No matter where you focus your energies, employee engagement initiatives can help your employees feel valued, encouraged and inspire greater success for your organization.
By coupling your efforts with programs that increase motivation and skills among your team members, you'll find that productivity can soar.
Learn more about Emergenetics can help your employees be more productive. You're invited to fill out the form below to connect with our team today.

Print This Post