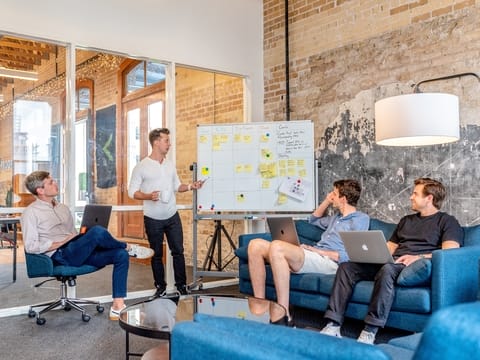 Losing high performing employees is difficult for managers, teams and your overall organization. Turnover doesn't just impact morale and productivity. It also leads to the added costs of:
Paying for job postings
Recruiting
Time spent interviewing candidates
Training your new hire
Building their skills to achieve optimal performance
It takes a lot to replace team members, which is why so many Human Resources teams focus on strengthening their hiring practices. It is equally important, however, to invest in employee retention strategies to engage and keep employees once they are in the door.
The Business Case to Increase Employee Retention
The cost of turnover does depend on a person's job function, experience and skills. Some estimates range as high as twice a person's annual salary for executive positions and others as low as 16 percent for hourly employees earning less than $30,000.
A good rule of thumb in retention costs comes from the Society of Human Resources Management, which estimates that replacing a salaried employee costs between 50 to 75 percent of their salary. Using this metric, if an employee is paid $60,000, it would cost your company between $30,000 and $45,000 to replace them.
As you evaluate your employee retention strategies, I encourage you to consider your annual turnover as well as the average salaries of your employees to estimate its true cost to your organization. The data will also help your leadership realize the financial implications of not investing in employee engagement.
Seven Areas of Focus for Your Employee Retention Strategy
1. Onboarding
According to Glassdoor, organizations with a strong onboarding process improve new hire retention by 82 percent. It's no surprise that when companies provide employees with a positive experience right off the bat, they are more inclined to stick with that organization.
Invest time into planning touchpoints and positive experiences for your new hires from the moment they agree to join your company through (at least) their first 90 days.
2. Training and development
Employees appreciate companies that invest in their success. In fact, LinkedIn reports that 93 percent of employees would stay at a company longer if it invested in their careers.
To retain your employees, we recommend creating training and development opportunities that support the needs of your leaders, managers, individual contributors and teams. Consider what relevant, practical trainings programs can help employees do their jobs more effectively today as well as what development opportunities you can offer to support skill building for the future and help individuals advance their careers. In doing so, you will see greater engagement and retention.
And if you need some additional help getting your C-suite interested in building out the learning and development function, try reading this post for more ideas!
3. Strengths-based assignments
People who use their strengths every day are six times more likely to be engaged in the job. While not every project a person works on will (or should) play to their strengths, giving employees opportunities to use their gifts at work will help them connect with their role, supporting retention.
One strategy to discover employee strengths is to use assessments like the Emergenetics Profile. By providing managers with insights into their employees' preferred Thinking and Behavioral Attributes, they can better identify strengths-based assignments to engage employees.
4. Communication
Effective and thoughtful communication is an important part of any business's success as well as its employee engagement. After all, when we communicate effectively and efficiently, business gets done more quickly. When we connect with staff in a way that speaks to their interests and motivates them, employees are more likely to enjoy working at our companies.
What tools are you using to improve internal communication in your organization? Consider what policies or trainings that you could put in place to strengthen communication within your company.
5. Teamwork
37 percent of employees say "working with a great team" is their primary reason for staying with a company. How are you encouraging effective collaboration in your organization?
To increase employee retention, I invite you to prioritize programming that builds positive working relationships. Some options include utilizing team building events and company gatherings. Your organization can also offer trainings, such as our Meeting of the Minds workshop, to help teams learn about how they can work with one another more effectively.
6. Compensation and benefits
As you consider employee retention strategies, evaluating your benefits program is essential. Part of this process involves monitoring your salary and bonus structures to ensure they remain competitive with the market. And, it's important to think about your benefits in totality.
Even if you cannot offer the highest salaries, other features like healthcare, paid time off, volunteer offerings, professional development and culture all contribute to the overall benefits offered by your organization. By paying close attention to your benefits programs, you can improve retention.
7. Recognition
Beyond benefits offerings, I also recommend placing a focus on recognition programs. One study showed that recognition-rich companies have 31 percent lower turnover rates.
While some of these rewards may be baked into compensation plans, you can also develop programs and policies to promote recognition in small and large ways outside of financial benefits. Some examples include peer-to-peer recognition, manager shout outs, gratitude walls, thank you notes and company-wide announcements to highlight the great work team members are doing.
Building robust employee retention strategies may require focus and investment, and the financial implications of ignoring turnover are typically much more significant.
As a next step, I encourage you to evaluate your company's efforts in the seven areas listed above. Then, try prioritizing one or two strategies to focus on to positively impact your company's turnover rates.
Interested in learning how Emergenetics can support employee retention? Fill out the form below to learn more about our programs.

Print This Post