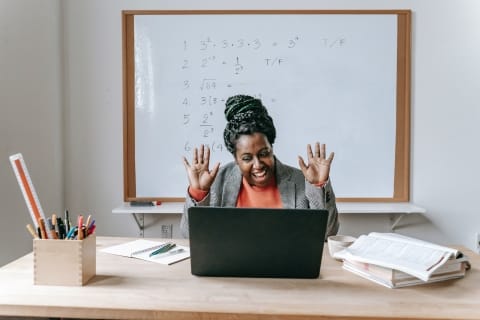 With the end of the school year beaming like a light at the end of the tunnel, many school administrators are likely gravitating toward a third-third Assertive pace to get the year over with, so their teams can take a much-deserved rest. Before you send your staff off to their summer break, I invite you to pause and take stock of the bright spots in your year.
Even amid all of the challenges, there were success stories that came to life in the way your team navigated changes they were never trained for and found ways to support students. It's important to recognize those rays of light, especially when the past several months may have felt dark.
In the book Switch: How to Change Things When Change Is Hard, the authors, the Heath brothers, describe how identifying bright spots can help illuminate a roadmap for action and inspire hope that positive change is possible in the future. The 2021 – 2022 school year will again require shifts, so I invite you to reflect on the positive moments that came to light this year, so you can carry them forward.
Use the Emergenetics® Attributes to Identify Bright Spots
Set aside 20 minutes to reflect on all of the silver linings you can identify. You may have a few ideas pop into your mind right way. To help you think holistically about the successes you have seen, I encourage you to use these thought starters to consider what each of the Emergenetics Attributes may see as important moments or learnings from the past year.
Analytical: How did we grow our expertise?
Structural: How did we create some consistency to support our school community?
Social: How we enhance our connections with our students, parents and one another?

Conceptual

: What new ideas did we test out and implement?
Expressiveness

First-third: What communication methods helped individuals to internally process the changes they experienced?
Third-third: What communication methods helped individuals to externally process the changes they experience?

Assertiveness

First-third: How was our school able to provide steady support?
Third-third: Where did our team pivot quickly and find success?

Flexibility

First-third: What commitments were set that helped your team throughout the year?
Third-third: What changes were made throughout the year that improved the way staff worked?
Get Input from Your Team
Based on your own Emergenetics preferences, it may be easier to brainstorm bright spots through the lens of certain Attributes while others may be more challenging. To fully consider each preference, engage your staff in this exercise to identify more silver linings. With the natural cognitive diversity that comes to life in a group, you are likely to find many more successes that you may not have been aware of to support your work
To engage your team in this process, try using the following activities:
Host a virtual meeting and ask for staff members to share inputs via chat and out loud
Provide access to virtual whiteboards where educators can share their thoughts over a period of time
Engage in virtual or in-person WEboarding using the prompts from the Attributes above to encourage staff to think more broadly about silver linings
By recognizing the brilliances that have come from the way you and your team were able to navigate unfamiliar situations, engage students and support one another, you can accomplish two things:
You can help your staff feel encouraged by the incredible perseverance and strength they showed.
You can identify bright spots and successes that you can use to inform your work in the fall.
Just because the school year is likely to look different again next year, it does not mean these positive aspects from 2020 and 2021 should be forgotten. We have learned a great deal and those silver linings can contribute to an even better school year.
To quote Switch, "flashes of success – these bright spots – can illuminate the road map for action and spark the hope that change is possible." After the year we have had, we could all stand to have a little more hope as we approach ongoing transformation. As you look forward, it is my hope that by taking stock of these bright spots that you can help your staff hold onto the moments of brilliance and use them to inspire whatever lies ahead.
Want to learn more about how you can use the Emergenetics Attributes to support your school? Click here to learn about STEP or fill out the form below to connect with our team today!

Print This Post