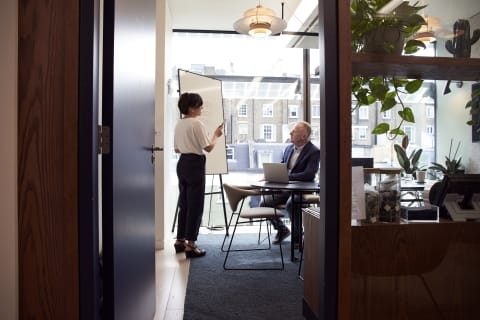 While the Great Resignation is unleashing a plethora of talent in the market today, organizations are still suffering from skills shortages. McKinsey Research reported that 87% of companies say they have capability gaps right now or expect them within a few years. And as the pace of automation has soared, more than half of all employees are expected to need reskilling by 2025, so this challenge will not go away any time soon.
To address the disparities between the skills required and the abilities of your workforce, Learning & Development (L&D) teams have to get creative. A first step is helping your leaders think differently about three priorities:
1. Revaluating how work gets done
2. Expanding staff development
3. Supporting hiring for the future
Reevaluating How Work Gets Done
When considering the tasks, projects and goals that need to be accomplished, companies often organize their work around specific job functions and teams. In many instances, this approach works well. And, when talent gaps exist, you may find that a project that would typically be owned by a certain department requires expertise that the staff do not yet possess.
For example, perhaps your organization determines that employer brand is a priority, and your current Human Resources team has specialties in the areas of benefits and performance management. To navigate the discrepancy, your company could invite individuals from other departments, such as Marketing or Sales, who have experience in building brand and affinity to provide the missing perspectives. When organizations evaluate what capabilities are required to accomplish work, they can reconfigure teams or collaborate cross-functionally based on who has the necessary knowledge, rather than traditional responsibilities.
To simplify this process, L&D professionals can take an inventory of employees' existing competencies. There are several ways that you can recognize talents, such as reviewing the aptitudes staff have listed on their resumes, creating a skills audit survey or matrix or utilizing data from your learning management system to understand proficiencies. By keeping a record of your people's talents, you can help leadership more quickly identify additional thought partners to push projects forward.
Expanding Staff Development
With the speed of change and automation, we know that job responsibilities will shift dramatically in the not-so-distant future and keep evolving. Companies cannot expect to reskill the workforce once and feel confident they will thrive for the rest of their careers. Employees will need to regularly build new capabilities.
L&D teams can curate opportunities to expand staff's understanding of various in-demand functions and abilities. Internally, I invite you to consider organizing job rotation and project-based learning programs. To give staff access to external resources, you may offer tuition reimbursement or partner with nonprofits to have individuals participate in skills-based volunteering to hone particular aptitudes. As employees have a chance to explore other roles, they can discover different career interests and growth opportunities while also cross-training to expand their knowledge in areas that will advance your business.
Additionally, focused reskilling programs benefit your people and your company. Take stock of your business strategy to identify what capacities are needed today as well as one, three and five years from now. As you develop your list, hone your priorities by determining which talents are evergreen, such as a willingness to learn or collaboration, as well as areas that need to be high priority.
Supporting Hiring for the Future
Effective hiring is always vital, and when talent shortages exist in the company – or if leaders are anticipating them – it is even more essential. It's not enough that managers only think about how their next hire will meet today's demands and fill existing holes. They must also be cognizant of what other expertise the candidate can contribute to the company and what aptitudes they may need to build.
L&D professionals can serve as partner to managers to select relevant and necessary skillsets in the hiring process. By working with departments to uncover existing capacities, missing faculties and what changes the group expects in their work in the next few years, you can help managers determine specific aptitudes that will complement the group's overall strengths and support its growth.
As leaders think about hiring from the lens of complementary competencies, it is also important to train staff to embrace different approaches to work. Sometimes, individuals may unintentionally favor people who have similar backgrounds to themselves, which can lead to more talent gaps among other negative consequences. You may offer training in unconscious bias or use programs like Emergenetics® that promote the value of cognitive diversity to enhance self-awareness and mitigate some of those hiring obstacles.
While talent shortages are likely showing up in your company today, your Learning & Development programs can have an immediate and positive impact. When you identify opportunities to help your people utilize their strengths, provide valuable learning experiences and hire mindfully, you will empower leaders, managers and teams to shore up existing discrepancies and proactively mitigate future gaps.
In addition to supporting diversity of thought, Emergenetics is a valuable tool for Learning & Development professionals who want to help staff work more productively and positively. Learn more about our Certification programs or reach out to our team by filling out the form below.

Print This Post