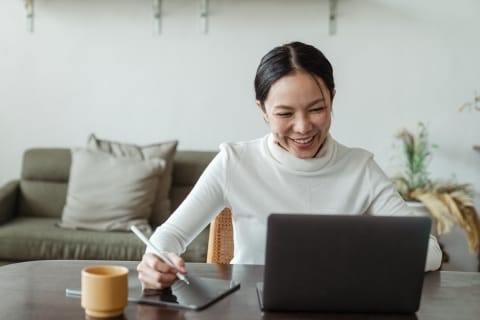 Did you know that the average workday has increased by 48.5 minutes in the COVID-19 pandemic?
Even if you were not aware of the exact figure, you may have felt it day to day. While there are certainly reasons to put in longer hours when needed, habitually adding time can increase your likelihood for burnout, which is something you and your business cannot afford.
To improve work-life integration, employees should be thoughtful and communicative about setting expectations. While it has often been a suggestion to support a healthy personal life, defining your boundaries is important in business too. By expressing your own rules of engagement, you will be better equipped to manage your priorities effectively and feel fulfilled – not overwhelmed – in your role.
10 Tips to Set Boundaries
#1 – Understand your needs.
Start by looking inward to build up your self-awareness. Consider what sort of environment is best for you, the things that cause you to feel stress and the information you require to operate effectively. For those with an Emergenetics® Profile, I invite you to spend some time reviewing your preferences to identify what factors contribute to an atmosphere where you will succeed.

#2 – Identify business priorities.
As a part of setting limits, it is important to recognize where you should hone your focus so that important duties are attended to. You can use a few methods to identify primary objectives, such as:
Referencing the Eisenhower matrix to order your tasks,
Conducting an audit of your projects and their alignment to business goals
Partnering with your manager to review your assignments and determine the most essential items
#3 – Look for examples from coworkers.
Crowd sourcing ideas or best practices from your colleagues can help you better support your wellness. Take stock of who amongst your teammates seems to have positive work-life integration and communicates their limits in an effective way. Ask for advice from those individuals to discover how they've established their work habits.
#4 – Start by picking just one thing.
You may have many ideas about the changes you could make after referencing tips #1 – #3 on this list. As you begin, pick one realistic objective. By prioritizing a first change, you can turn your attention to how you will achieve that goal and effectively introduce your new rule of engagement.
#5 – Create a structure to support you.
Find a way to systematize your approach by identifying specific action items to bolster your new behavior. For example, if you are creating a standard around your working hours, determine some new practices to enhance your likelihood for success, such as shutting down your computer at a certain time or putting your devices in another room.
#6 – Communicate regularly.
Boundaries will only be adhered to if you thoughtfully explain them to your colleagues. Practice clearly articulating the new rules or routines that you are going to implement. Find multiple ways to share this information, including discussions with team members or managers as well as email signature notes or out of office messages.
#7 – Practice for pushback.
No matter your preference for Assertiveness, it is important to learn how to say no and identify how you will navigate a situation where a colleague is pushing on your boundaries. By finding respectful ways to reiterate your needs and being prepared, you will increase your likelihood of success.
#8 – Consider trade-offs.
Related to tip #7, trade-offs can help you navigate obstacles. For example, you may be focused on a particular task and something more urgent arises. While the emergency may take priority, you can express the impact the change has on other timelines. By explaining what trade-offs will occur, you can manage expectations for yourself and others.
#9 – Give yourself grace.
If finding work-life integration were easy, there wouldn't be so many blogs about the topic! Give yourself some leeway as you determine and communicate your limits. And proactively identify some activities that will help you when you find stress creeping in – whether that is a scheduled break, a nature walk, journaling or another activity that creates a sense calm.
#10 – Be respectful.
Lastly, as you ask your colleagues to be considerate of your rules of engagement, be mindful of theirs as well. When you meet others where they are at and commit to honoring them, they will be more likely to extend the same courtesy to you. Be kind to yourself and to your teammates.
If you find yourself feeling that burnout is on the horizon, I invite you to revisit this list of recommendations. Your needs will always shift and the limits you set today may not perfectly support you tomorrow. Be open to the change and keep checking in with yourself to see what adjustments you should make. Doing so will enhance your mental, physical and emotional wellbeing – and your workplace engagement.
Discover how the Emergenetics Attributes can help your employees operate more effectively. Learn more or fill out the form below to speak with one of our team members today.

Print This Post