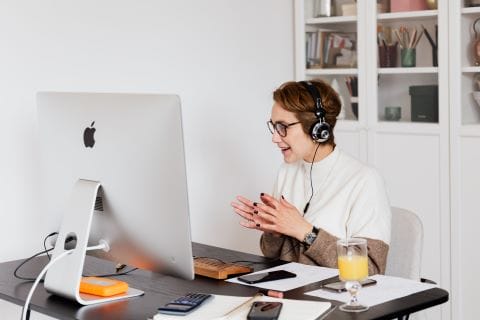 It was hard to miss all the headlines this month highlighting "one year" since the start of the pandemic. For many of my colleagues around the world, it's been going on even longer! Still, the driving idea behind the year-mark has global applications.
Last March, most businesses anticipated that the shift to remote work would only last a few weeks or a couple of months at most. By now, it has become clear that most workplaces are not going to shift back to the way they were before the pandemic. Instead, many organizations need to embrace a digital workspace where some or all of our colleagues may never be in the same location at the same time.
For managers, the 12-month marker can provide an opportunity to pause and think about how you are supporting your employees, and not just in the "interim" until you can get back in-person. It's a time to truly define what sort of culture you want to bring to life for your team that will honor the experiences of in-office, remote and hybrid staff members.
Reinvigorate Team Dynamics for Your Employees
As you rethink your culture to embrace a digital workplace, I invite you to:
Reflect.
Recognize lessons learned.
Realign your why.
Reframe norms.
Revitalize your community.
Reimagine possibilities.
1. Reflect.
After a year or more of working from home, in a hybrid capacity or in person as an essential worker, you have likely gained a lot of knowledge about how your group operates most effectively in a new environment. You also may have made some changes to your leadership approach that you may not be aware of. Reflect on your experience over the past year and identify the adjustments you have made to better support your success and that of your staff. Encourage team members to engage in the same activity as well.

2. Recognize lessons learned.
Once your group has reflected individually, I invite you to bring your employees together to share any of your insights. I also recommend that you share the changes you each have made to work more effectively on your own or as a unit. Through these conversations, your staff can learn from one another's experiences. You can also collectively identify practices that you want to maintain and lessons learned that you do not want to repeat.
3. Realign your why.
The business models and priorities of most organizations have shifted significantly in the past several months. Likely, your company's vision for the future also looks different than it did one year ago. Partner with your employees to revisit the vision, values and goals of your company and take time to identify your why. Realigning on your team's purpose can help to clarify the role you all play in your new business structure as well as reignite motivation and engagement.
4. Reframe norms.
While many groups revised their rules of engagement when they moved to a virtual environment, you may not have built these practices with the mindset that remote work would become a permanent option. Given the lessons your employees have learned in the past 12 months, review your operating norms, processes, procedures and expectations to assess what is working well and what still needs to be optimized to create a better digital office experience.
5. Revitalize your community.
With fully or partially virtual teams, isolation can be a struggle. To strengthen connections between your employees, make collaboration and team building a priority. Evaluate the collaboration tools you are using, assess the effectiveness of your meetings and gather as a group for activities that are not directly related to work like virtual lunches, coffee breaks or events. I also invite you to use short activities in your gatherings that cultivate cohesion and understanding.
6. Reimagine possibilities.
There has been a great deal of invention in the past 12 months as organizations have evolved their services to enhance remote work. Partner with your staff to identify new tools, technologies, best practices or collaboration strategies that could promote a more positive, productive culture. I also invite you to consider your ideas through the lens of the Emergenetics® Attributes to make sure that the practices you want to apply will speak to the preferences of your employees.
While few of us imagined that our work environments would be turned upside down in the first quarter of last year, there are incredible opportunities that have arisen from embracing a new version of office space. By recognizing your learnings and reframing your mindset to prioritize the experience of all staff members whether they are in-person or remote, you can set your team up for success no matter what the future may hold.
Take the first steps to establish a better culture for your team. Download our guide: Leadership in the New Age of Work or fill out the form below to get in touch with Emergenetics today!

Print This Post