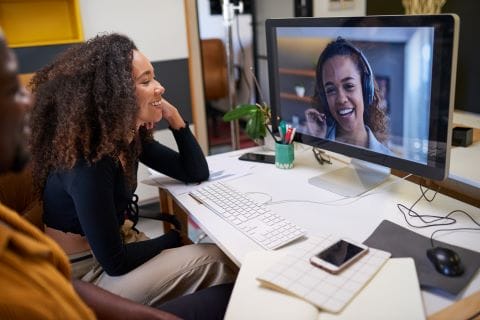 Flexible work arrangements have generated many benefits to employees and companies from increased productivity to decreased turnover. While many staff members are grateful for and even expect remote and hybrid options, that's not to say these environments are free of any challenges, especially when it comes to working relationships.
One survey found that 73% of employees say collaboration now takes more effort and planning than it did before March 2020. Another study reported that 50% of remote staff experience loneliness on at least a weekly basis. The solution to these obstacles is not to force everyone back into the office and sacrifice the value that stems from flexibility. Instead, organizations can intentionally build interpersonal connections.
As this brilliant article from Positive Psychology shares, strong workplace bonds lead to reduced stress, better job performance, improved mental health and increased employee engagement. Enboarder found that 94% of employees agree that they are more productive when they feel connected to their colleagues. That study also showed that the top two reasons that lead to disconnection comes from having:
Different personalities or workstyles from their coworkers
Unsupportive managers
Emergenetics® Associates have a distinct opportunity to address these challenges using our many resources to promote greater understanding and build motivating ties between supervisors and the people they lead as well as between colleagues.
Improving Relationships Between Managers and Direct Reports
Supervisors have the potential to significantly influence the employee experience. When they adapt their style to respect the needs of their staff, inspire their people and communicate in a way that makes each person feel seen and heard, employees are more likely to feel connected and dedicated.
To create engaging experiences, spend time coaching managers one-to-one or in groups on the Attributes in Action Guides available in the My Library section of Emergenetics+. There are three resources that may be particularly useful for these conversations:
How to Communicate to the Emergenetics Attributes
How the Emergenetics Attributes Prefer to Receive Recognition
How to Fuel Your Motivation
The templates will provide specific strategies that people leaders may use to adjust their approach to best meet the needs of their individual team members based on their preferences.
You can also explore the egLearning Library courses, focusing on Learn to Flex – Thinking to Build Connection and Learn to Flex: Behaving to Improve Rapport. The digital courses can help supervisors build skill in and practice applying different thinking and behavioral approaches. The curriculum includes opportunities for learners to identify commitments they will make and apply the knowledge gained. As a follow-on to the coursework, Associates may also use the egLearning Library course companions to support managers as they continue to hone their flexing skills. The resources are available in the My Library section of Emergenetics+.
When people leaders have the knowledge and tools to honor the preferences of their team members, staff will feel valued and understood, which can reduce isolation and boost engagement – not to mention provide other benefits, like increased motivation and productivity!
Strengthening Team Connections
Bonding with colleagues is an essential part of establishing a sense of affinity for the organization. 57% of people who have a best friend at work find the experience more enjoyable, and when 60% of employees have a work best friend, profits increase by 12%.
To improve connection and collaboration, Associates can start by hosting a Team Dynamics for Small Groups or Meeting of the Minds session with intact or project-based teams. These workshops help individuals learn about the Thinking and Behavioral preferences of their colleagues to bring awareness to their similarities and differences as well as create appreciation for cognitive diversity and varying work styles.
If you have already hosted these programs, there are many other ways to expand on their learning. Consider using the Most Preferred Attribute or Behavioral Attribute Walkabout activities from the Meeting of the Minds with new prompts to uncover nuances in how people strengthen bonds. Grouped by like-Attributes, ask staff to reflect on questions like:
What helps you to build trust with teammates?
What makes you feel heard and valued?
What matters most to you in a working relationship?
What allows you to be confident collaborating with colleagues?
There are also activities in the My Library section of Emergenetics+ that can inspire increased alignment, including the 3-2-1 activity: Buoy Your Collaboration Efforts as well as the Emergenetics Warmups. By prioritizing team building and showing employees how their colleagues prefer to approach their work, Associates create the conditions for a more united, engaged culture.
Whether employees are in the office, in a remote setting or a hybrid environment, these Emergenetics activities will provide tangible strategies to cultivate effective, productive working relationships, and they are just the tip of the iceberg. There are so many ways to use Emergenetics to boost human connections.
The most important thing is to take steps that show people that they are central to the organization, so I invite you to pick even one activity listed above and start there to inspire meaningful change!
Want to learn more about our solutions to support company culture? Emergenetics Associates, be sure to reach out to your Emergenetics representative for tailored recommendations. If you're new to our company, explore our website or fill out the form below to speak with one of our staff members today.

Print This Post