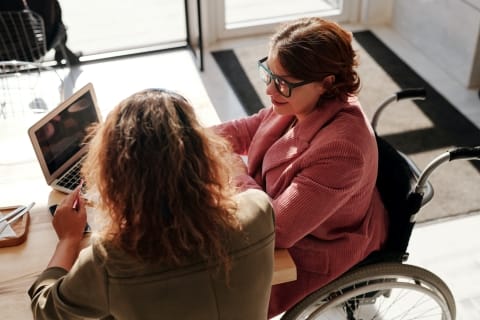 While we've entered a new year, that occurrence has not relieved us of the challenges of 2020. Most businesses are still addressing significant transformations in operations as leaders adapt structures, practices and job functions to align to new strategic priorities.
Employees continue to navigate work while managing change fatigue, adjusting to evolving business needs and seeking to maintain motivation. As organizations ask staff to adapt and take on new responsibilities, the strain can also impact productivity and wellness.
However, you have an opportunity to empower your employees to take ownership of the change to stay engaged. By finding a balance between job design and job crafting, you can help staff discover a greater sense of purpose despite ongoing volatility.
The Positive Impact of Job Crafting
As company goals shift, job functions should logically change as well. It's vital that companies spend time defining what roles they need to be successful with agile workforce planning and strategies to reskill and upskill employees. Still, these evolutions don't need to solely live with your Human Resources, Organizational Development or Learning & Development functions. They can also come from across your organization.
Job crafting gives staff an opportunity to proactively take steps to redesign what they do at work, essentially changing tasks, relationships and perceptions of their jobs. And it has a positive impact on psychology by helping individuals to:
Utilize their strengths in their work
Identify opportunities for growth that motivate them
Infuse greater purpose into their roles
That sense of meaning in turn can empower employees to overcome obstacles, boost capacity as well as enhance job satisfaction and performance.
Five Ways to Balance Job Design and Job Crafting
By using a top-down and bottom-up approach to organizational development, you can positively influence staff and achieve important business outcomes. Consider the following ways that Human Resources professionals can utilize job crafting to support business transformation and recovery:
Create conversations around workforce priorities.
Co-create development plans.
Offer job shadowing programs.
Host job crafting meetings.
Help employees recognize and utilize their strengths.
1. Create conversations around workforce priorities.
Help employees understand how your organization's vision and objectives translate into priorities for skills and job functions. Share the outcomes of your workforce planning discussions, and host gatherings with managers and employees to get input on what these objectives could mean in terms of evolving job roles. By having an opportunity to imagine the future of your workforce, staff can begin to self-select intriguing development opportunities and share ideas on how to they can adjust their job responsibilities to address changing needs.
2. Co-create development plans.
While you may already have outlines for employee development plans based on function, title or seniority, you can engage staff more effectively when they are actively involved in creating their own plans. Partner with managers and provide them with questions to learn more about how their team members want to adapt or grow their responsibilities. Then, help managers create a roadmap to achieve these objectives and engage in periodic check-ins to see what's working well and where adjustments are needed.
For more ideas on how to set and achieve development goals, download our latest guide: Amplify Your Impact with Effective Goal Setting.
3. Offer job shadowing opportunities.
It's easy to get siloed – especially for employees in remote or hybrid teams. When there are barriers between our work, staff may have difficulty seeing what opportunities exist inside the company and how else they can grow. By initiating a job shadowing program, you can help individuals explore different paths, learn about growing aspects of your organization and discover new ways to adapt their work. If nothing else, job shadowing can cultivate new relationships, which is one form of job crafting in and of itself!
4. Host job crafting meetings.
In a presentation by Dr. Amy Wrzesniewski, Professor of Organizational Behavior at the Yale School of Management, she suggested hosting "job crafting swap meetings." The conversations provide a space where team members can discuss existing job functions, highlighting what they love and what they don't love about their work. By having these discussions, you may find an employee yearning to do something that deenergizes another team member and identify opportunities to reassign responsibilities.
5. Help employees recognize and utilize their strengths.
Research has demonstrated that people tend to be more engaged at work when they can use their strengths. To help staff uncover their innate gifts, consider using assessment tools like the Emergenetics® Profile. With an understanding of how they prefer to think and behave as well as insights into what energizes them at work, employees can better identify opportunities to adapt their roles or shift their approach to current job duties to enhance engagement and productivity.
As you seek to optimize your organization's performance and structures, remember that the best ideas rarely come from one person – they tend to come from a cognitively diverse team. By involving staff in building the future of your workforce, you can engage employees while setting your company up for future success.
As a final thought, I'll leave you with the words of Dr. Wrzesniewski:
"If you want to signal in the most powerful way possible the commitment that an organization has to an employee's sense of purpose, the answer that our work suggests is you celebrate and support their ownership of it first."
Want to learn more about how Emergenetics can help your staff recognize and achieve their full potential? Click here to learn about our programs or fill out the form below to connect with a team member today!

Print This Post