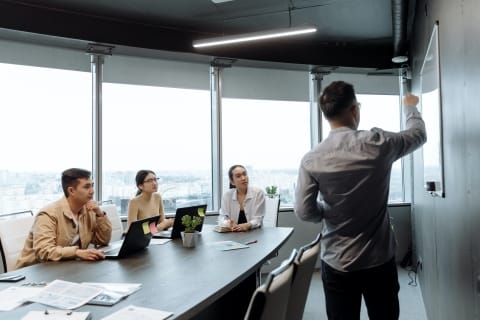 In any workplace, employees will experience a motivation dip from time to time. Maybe work is starting to feel a little too routine. It could be that projects are too easy or too challenging. Perhaps staff feel like they aren't accomplishing their goals or taking steps toward the future they want to realize. Or they may simply be in need of a little inspiration. Whatever could be causing the slump, one thing that organizations can do to re-energize individuals is offer opportunities to learn.
How Learning Supports Engagement
People have a desire to grow. In 2020, 60% of workers embarked on their own skills training, revealing an unmet appetite for greater knowledge even in a time of stress, and 94% of employees say they would stay longer at a company if it invested in their development.
By attending training programs, individuals can get a spark of energy from:
Supporting their long-term employability and success
Discovering new ideas
Gaining practical and needed skills that make work run more smoothly
Collaborating and learning from colleagues
It's no surprise then that 93% of workers report that well-planned employee training programs positively affect their level of engagement. If you want to help your staff get motivated and stay motivated, Learning and Development (L&D) can help.
5 Quick Ways to Get Started
To inspire employees, L&D teams can utilize the tactics below to encourage staff to take part in trainings as well as realize the psychological and workplace benefits that come from learning.
1) Highlight the advantages
While companies certainly benefit when their team members build new skills, make sure that your messaging focuses on the gains that everyone receives from participating in your initiatives. To make sure that you address the interests of each attendee, I invite you to use the Emergenetics® Thinking Attributes to frame your message by sharing:
Why the training will help them, including expected outcomes and objectives
What it will do to improve their day-to-day work
How they get to learn with and from others
The possibilities and new information they will discover
2) Think small
If someone is in a slump, they may not want to take part in a full-day training course. Instead, it's best to start with small steps. Identify opportunities for staff to participate in short bursts or microlearning. You may have existing eLearning courses that could be promoted easily, or you can think even smaller by sharing educational videos, articles or templates. I also encourage you to set up tracking metrics to see what is resonating with employees so you can deliver more concise offerings that build up interest and desire for even more.
3) Make education a reward
In the past, we've shared that it's important to celebrate your employees' growth, and that is still a successful tactic when it comes to increasing motivation. In addition to providing recognition, consider how further education might be an incentive. For example, if a coworker is celebrating their five-year anniversary, maybe they can choose from a selection of rewards, including a leadership accelerator course or some other leaning and development offering. You might also offer tuition reimbursements as an optional benefit. By positioning training as a prize, you can elevate excitement around growth.
4) Use community and connection to inspire employees
While development typically lives with the L&D team, you do not have to do everything. It can even entice staff members to attend sessions when they see their colleagues are leading or supporting your efforts. Some individuals, particularly those with an Analytical preference, may enjoy teaching a course or hearing from experts, so ask your internal talent to host a live event or record video tutorials. Others, especially those with a Social preference, love learning with and through others, so encourage people to sign up for trainings in groups and create channels to inspire coworkers to share their learnings, random knowledge or work hacks outside of formal education initiatives.
5) Empower one-to-one learning
For employees who prefer direct connections, one option is to use mentorship or peer coaching programs. For Emergenetics clients, I encourage you to use mid-dyads or unlike-dyads in your coaching pairings to inspire even more aha moments. You can also offer managers tips and tricks to provide consistent feedback, so growth becomes a part of employees' daily work experience. By helping individuals learn about and from one another, you can inspire them to see every interaction as an opportunity for a new discovery.
While building new skills is important for your business and your people's long-term success, development can also play an important part in creating a motivating employee experience. By taking simple steps to get your staff excited about learning, you will be in a better position to engage and retain great talent.
As one final tip, if you are looking for a fun, meaningful and thought-provoking program to add to your training offerings, I invite you to consider Emergenetics' essential workshops. There is absolutely something in it for everyone!
Discover how Emergenetics can energize your organization by filling out the form below to speak with one of our team members today.

Print This Post