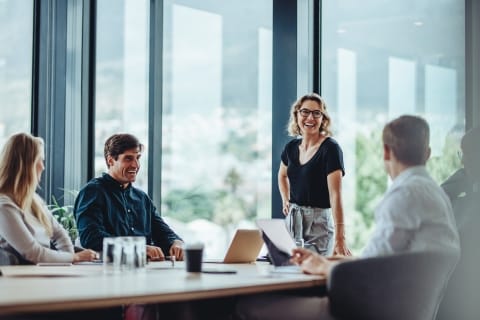 There's a quote from Simon Sinek, the author of Start with Why and The Infinite Game, that I would encourage any business leader to contemplate:
Customers will never love a company until the employees love it first.
I imagine most professionals who are working in Human Resources, Learning & Development (L&D) or those providing leadership coaching have always intuitively understood this concept. As the pandemic has shifted the mindsets of many workers, more and more executives are also recognizing the importance of focusing on their staff and creating a physical or virtual space where people are excited to show up and contribute.
While leaders may need less convincing of the value of an employee-centric approach, the next challenge that presents itself is how.
How can organizations design a culture where the entire workforce feels (and is) prioritized? How does that come to life when individuals have different perspectives, needs and interests? What tools produce people-focused ecosystems?
While there is not one solution to answer all of these questions, there is good news for Emergenetics® Associates. The knowledge you gained at Certification and the resources available in the Emergenetics+ portal offer a number of ways to guide employee-centricity.
5 Ways Emergenetics Helps Organizations Create Cultures that Inspire Employees
#1 – Celebrating Strengths
Cultivating a people-focused climate starts by acknowledging and appreciating each person as an individual. That includes respecting their strengths, contributions, backgrounds and experiences. To begin, employers and managers need to get to know their team members.
The Emergenetics Profile is a simple, easy-to-understand report that reveals how every individual prefers to think, behave and interact. Through Emergenetics workshops, colleagues learn about the gifts of each Attribute and recognize the value of different perspectives. These experiences and the Emergenetics+ mobile app give users a multitude of pathways to connect, collaborate and communicate in a way that honors and celebrates each person's brilliances.
#2 – Magnifying Connection to Work
Building on individual Emergenetics Profiles, Associates can empower employees to use self-awareness to generate even stronger connections to their job function. Encourage participants to explore their Narrative Report and the 3-2-1 activities (available in the Emergenetics+ portal) to discover insights into the projects and tasks that give them energy as well as the environments and actions that are most engaging.
Staff can apply these learnings by seeking out more assignments that align with their interests, having conversations with their managers about how to better use their strengths at work or engaging in cognitive crafting to amplify meaning in their daily activities. Learn more about job crafting, including cognitive crafting here or in our eBook!


#3 – Increasing a Sense of Belonging
To build a worker-focused company, it's important that individuals are encouraged to be themselves. Emergenetics Associates can promote this type of culture by curating the conditions to amplify appreciation for cognitive diversity. Using Group Reports, Associates can help teams recognize the value of every person's perspectives and call attention to how each member's preferences contribute to the group's ability to innovate, problem solve and achieve objectives.
The egLearning Library also offers courses that increase understanding of each Attribute and empower individuals to communicate, collaborate and interact in a way that embraces different approaches. To expand on the courses, Associates have access to complementary egLearning Library Course Companions, which provide one-to-one and team activities to reinforce discoveries and promote a culture where people feel seen and celebrated for their perspectives.
#4 – Personalizing Management
Supervisors may reference their staff's Emergenetics Profiles to individualize leadership strategies for their direct reports. As they are getting started, they will likely benefit from coaching. Using the Spectrum Reports for a team, Associates can offer managers insights into each person and provide personalized tips to enhance motivation, engagement and performance.
Another resource is the Attributes in Action Guides – Emergenetics Applications for Associates, available in the Emergenetics+ portal. The tool provides guidelines to apply the Emergenetics Attributes in many workplace scenarios including giving feedback, communicating and delivering recognition. After coaching sessions, be sure to share the version of the resource that's designed for people leaders as a point of reference.
#5 – Boosting Learning & Development
Employees value opportunities for growth, so any executives who want to have a positive, engaged workforce would be wise to invest in L&D. The workshops, courses, mobile app and activities available to Emergenetics Associates can bolster existing development programs and empower participants to build soft skills that are essential to career success.
Also, with the knowledge gained in Certification, Associates can tailor trainings to the learning preferences of employees. Integrating the Emergenetics Attributes into a development course ensures that there is something in it that speaks to everyone. That way, workers feel more engaged in the learning and are more likely to remember and apply their skills.
An employee-first mindset can do amazing things for the culture of a company and its growth. By designing an environment where everyone feels seen for who they are and implementing practices that honor each individual, Associates will help create engaging, motivating and high-performing organizations.
Learn more about constructing a people-focused culture. Download our eBook or fill out the form below to speak with one of our experts today!

Print This Post