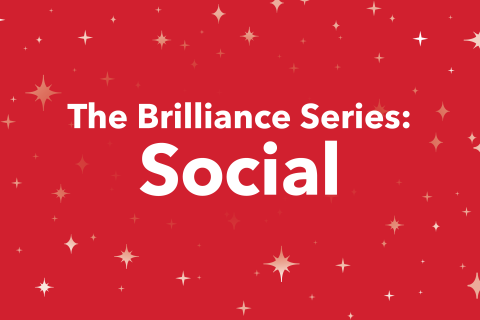 The Brilliance Series invites you to take a closer look at each of the seven Emergenetics® Attributes. Whether you are craving more information about your own Profile or interested in better understanding the preferences of others, these blogs will offer insights to shine a light on the gifts of each Attribute. This week, we're exploring Social.
An Overview
Welcome (back) to our series! I'm looking forward to sharing the brilliances of the Social Attribute with you. Individuals with this preference are often supportive of others and intuitive about people. They are typically concerned about the feelings, wellbeing as well as comfort of their colleagues and friends. You may notice that they like to check in with their network before making a decision and moving forward.
Generally team-oriented, Social thinkers are known for having an sympathetic approach that prioritizes collaboration and insights from the group. They tend to have a knack for relating to others and often rely on gut instinct.
Sometimes, this Attribute can be confused with the common personality trait of extraversion. While Social thinkers are typically interested in developing connections with those around them, they are not necessarily the life of the party. They may be quiet or gregarious as they relate with those around them.
When it comes to the Social Attribute, some of the words you may hear most often include:
Interpersonal
Socially aware
Empathetic
People-focused
Intuitive
Approachable
Relational
The Inner Monologue
Speaking from the Social Attribute, doing this video on my own was a bit of a challenge, and by thinking about how it might help you in your work or life, I persevered! I hope you'll spend a little time hearing directly from this preference below.
The Brilliances
The Social Attribute has a gift for walking into a room and sensing the energy given its intuition about people. An emotional awareness coupled with a tendency for identifying the impacts of a decision or action on others may empower individuals with this preference to act as an interpreter or facilitator.
Social Thinking is also known for its concern for others, and those who prefer the Attribute are often seen as friendly and relatable. Individuals with this Thinking preference commonly advocate for others, which may come from their innate tendency to prioritize fairness.
Motivation
To encourage the Social Attribute, start with connection. Individuals who prefer Social Thinking tend to be more engaged when they have a personal relationship with whomever they are working or speaking with. Make time for ice breakers to establish rapport and have meaningful interactions before getting to the task at hand.
This Attribute also appreciates working with and through their community. Collaborating toward a common goal as well as learning from the experiences of those in their network can boost motivation for this preference. When feeling stuck or isolated, checking in with a thought partner often amplifies engagement. Related to this idea, Social thinkers typically get energy when they hear personal stories to illustrate concepts or bring work to life.
Also, those with a Social preference may feel more engaged when they have a chance to link their activities to positive impacts on others (like I illustrated in my video example above). When there is an opportunity to support colleagues, friends, family or the community at large through their actions and behaviors, Social thinkers often feel invigorated.
If you have a preference for Social thought, I invite you to identify situations to increase the human connections in your life, taking some inspiration from the paragraphs above. For individuals who are engaging with a Social thinker, consider how you are weaving these elements into your work. If you could use some more ideas to bolster this preference, be sure to review the suggestions below.
Flexing Into Social
To promote a positive environment for Social Thinking and bring out its brilliance, take action to demonstrate your appreciation for this Attribute. To lean into the Social Attribute, start with informal connections. Social thinkers typically want to build a relationship that extends beyond the immediate need, so try asking questions to uncover how they are feeling and learn about who they are.
On a related note, be mindful to listen to and value the inputs you receive. From the perspective of Social, it's important that individuals hear one another and are not dismissive of alternative inputs. Practice being open to thoughts, feelings and emotions and avoid sarcasm in your interactions. Sincerity is essential.
When sharing, do your best to personalize the information. Also, address the impacts it will have on people and ask how others are feeling about decisions. By checking in and reinforcing this interest in understanding and honoring individual needs, you can establish an ecosystem where the Social Attribute feels valued.
Social thinkers shine brightest when they are part of an environment where they know that individuals matter – and not just for the work they can do. They have innate value as people. By cultivating a space that welcomes and celebrates the Social Attribute – as well as each preference – everyone benefits from the power of diversity of thought.
I hope you enjoyed this exploration of the Social Attribute and will continue on with our series to learn more about how you can create an atmosphere that celebrates all Thinking and Behavioral preferences. What could possibly be more people-centric than that?
Explore the other entries in our series: Analytical, Structural, Conceptual, Expressiveness, Assertiveness and Flexibility.
Discover how your employees can collaborate and communicate more effectively with their colleagues. Explore the courses in The egLearning Library or fill out the form below to talk to one our team members about potential training solutions!

Print This Post